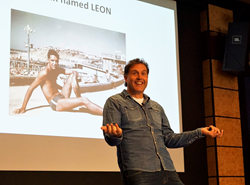 I have learned a few things about how to replace traditionally aggressive approaches to business with values that are a little more holistic.
LOUISVILLE, Ky. (PRWEB) February 09, 2018
Bruce Lee has inspired thousands over the years to take up martial arts, but his approach to the craft has also changed the way that John Vincent, CEO and founder of Leon, looks at business.
"In starting and growing Leon, I have learned so much about the dos and donts of creating a new category — naturally fast food. And more broadly I have learned a few things about how to replace traditionally aggressive approaches to business with values that are a little more holistic," said Vincent, who opened the first location in 2004 in London.
"I would like to share some of the insights I have gleaned in writing my forthcoming book, 'Winning not Fighting,' and to receive people's feedback on this."
Vincent will share those insights this year during his keynote presentation, "Winning not Fighting. What the history of Leon and Bruce Lee's martial art of Wing Tsun can teach us about the restaurant industry," at the annual Fast Casual Executive Summit, Oct. 9-11 in Seattle.
"Most of the people at the conference will be new to me and I am really looking forward to meeting a whole bunch of people with huge experience and potentially different perspectives and experience from mine," Vincent said.
Vincent keynoted the 2017 Restaurant Franchising and Innovation Summit in London and was so inspiring that Cherryh Cansler, who books speakers for both summits, said she knew Vincent was the perfect choice for Seattle. (This year's London Summit is July 16-18, and the CEOs of Fatburger and Wrap It Up will keynote it. Marco Reick, Leon's people director, is also on the agenda.)
"He was just amazing — funny and insightful with a unique outlook on growing his business. I can't wait for our Seattle attendees to meet him," she said.
Vincent, Cansler said, will discuss his strategy for bringing the best food to the most people, his outlook on building a brand with purpose and how the key to Leon's successful growth has been its people.
Leon now has more than 70 locations across Europe and plans to soon enter the U.S. market.
Registration is now open for the 2018 Fast Casual Executive Summit and Early Bird pricing is in effect until May 25.
About Networld Media Group
Founded in 2000, Networld Media Group is a leading business-to-business (B2B) media communications company specializing in digital media, associations and events in the mobile, self-service, digital signage, retail, food service and financial services industries. Online properties include ATMmarketplace.com, BlockchainTechNews.com, DigitalSignageToday.com, FastCasual.com, FoodTruckOperator.com, KioskMarketplace.com, MobilePaymentsToday.com, PizzaMarketplace.com, QSRweb.com, RetailCustomerExperience.com and BiblicalLeadership.com. Networld event properties include the Fast Casual Executive Summit, CONNECT: The Mobile CX Summit, Interactive Customer Experience Summit, Bank Customer Experience Summit and the Restaurant Franchising & Innovation Summit. Networld also operates the ICX Association. Its newest offering, Networld Press, provides clients with an all-in-one website solution featuring custom website design and ongoing editorial, content strategy and website updates.