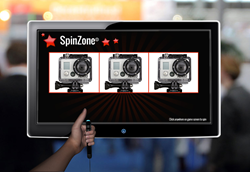 "SpinZone TradeShow Edition truly delivers the engagement a live audience is drawn to through using gamification strategies designed specifically for trade shows." Contest Factory Founder, Dr. Iman Foroutan.
TUSTIN, Calif. (PRWEB) February 13, 2018
Contest Factory is proud to announce the release of SpinZone Trade Show Edition. This makes SpinZone Trade Show Edition available not only to marketers but also trade show logistics organizations and venues to offer as a product/service for resale. At its core, SpinZone Trade Show Edition was designed to give marketers a highly engaging platform utilizing gamification tactics to attract prospects to their booth for lead generation. This tool not only attracts prospects but creates a word-of-mouth buzz on the trade show floor, making it a must-see attraction.
SpinZone Trade Show Edition's animated interface can be displayed on a big-screen TV, laptops, iPad or even mobile phones. When displayed on a big-screen TV, booth visitors use a hand-held USB detonator to spin and win. All design elements are entirely customizable to your brand imagery. A typical process is that booth visitors have their trade show badges scanned for a chance to spin and potentially win. Another scenario would be for the booth staff to get visitors' business cards before the visitors can walk to the SpinZone game and play. To see the game in action, go here: http://bit.ly/2n6WCoF
Initial product reviews are resoundingly popular with large numbers of qualified leads being obtained from SpinZone Trade Show Edition campaigns:
"A major thank you as the SpinZone Trade Show game was a major success for Hyatt. We had two lines pouring outside our pavilion as everyone wanted a chance to SPIN, the energy was high and incredible…Thank you again!" – Nicole Vaziri, Global Sales Director, Hyatt
"PeopleReady partnered with Contest Factory and utilized their SpinZone attendee engagement tool to help generate brand awareness/booth traffic at the largest Power Generation Trade Show in the world. Over the 3-day-event, 700+ people played our Vespa sweepstakes game, and 100+ people crowded our booth for the grand prize announcement. About 30% of visitors were pre-qualified as leads requiring immediate follow-up from sales. We are expecting at least a 10x first year ROI from the event. Special thanks to the entire Contest Factory team." – Ron Rice, Director of Marketing, People Ready
SpinZone Trade Show Edition is set to hit trade shows globally in 2018. Whether you resell trade show services or are a trade show marketing and event planner, we have the platform to engage your audience and deliver more qualified leads.