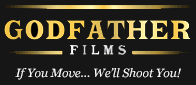 RIVERSIDE, Calif. (PRWEB) February 13, 2018
Godfather Films is proud to announce that it has successfully filmed its 3,000th wedding.
John Goolsby, the owner of Godfather Films, started his filmmaking company in 1986 and has gone on to film more than three thousand weddings in 25 different countries while logging in more than one million airline miles and ten million dollars in sales.
John and his company are showing no signs of slowing down producing more than 300 wedding and corporate projects a year working around the world with offices in California and New York.
Part of this success can be attributed to the recommendations Godfather Films receives from wedding planners around the world and more than 50 hotels and country clubs who list Godfather Films as their Recommended Videographer.
More than a few awards have come his way including being named "One of the Top 25 Event Filmmakers in the World" and being inducted into the "Wedding Video Hall of Fame."
His company has also won numerous awards for corporate video communication including multiple Telly's, Creative Excellence, Aegis and PROVA's. His corporate client list includes Costco, US Foodservice, Mobil Oil, Highway Toll Administration, Hoag Hospital, Kaiser Permanente, Abbott, Allergan Pharmaceuticals and South Coast Winery.
When asked about his most memorable wedding video moments, John says, "Filming multi-million dollar destination weddings in Mexico and a ceremony at Notre Dame in Paris and flying my drone over private islands in the Caribbean and Santorini and the weddings for professional athletes, TV celebrities and rock stars are all very special, but my most rewarding would have to include a bride's letter telling me that our film had saved their marriage."
John's motivation comes from his belief that: "Our most prized possessions are not things but the memories of our celebrations, adventures and the people we love." John says, "Couples really only get to experience ten percent of their own wedding and most of those memories will fade and eventually disappear. The purpose of wedding video is time travel."
John is widely recognized in the wedding industry as a keynote speaker for many groups including Professional Photographers of America, The Association of Bridal Consultants and Wedding MBA where he is known as The Wedding Godfather. His book by the same name is available at Amazon and Barnes and Noble websites.
John is a Certified Professional Videographer and has a Master of Electronic Imaging Degree. He has taught video communication courses at Brooks Institute of Photography, California Baptist University and the University of California.
John still seems to love what he does saying: "I've enjoyed the journey and don't know any other occupation that would've been more fun or found me more interesting clients and talented friends around the world."
About Godfather Films
Godfather Films is an award-winning wedding and corporate event videography company located in Riverside, California that serves clients around the world. With more than 30 years of experience and top industry recognition, Godfather Films specializes in capturing the entire wedding story.
Contact Information:
Godfather Films
9899 Indiana Avenue #102
Riverside, CA 92503
Local: (951) 688-4336
Toll-Free: (800) 495-5530
Website: http://godfatherfilms.com
E-mail: Info(at)GodfatherFilms(dot)com