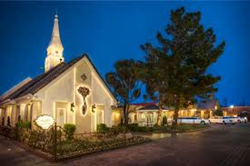 LAS VEGAS (PRWEB) February 09, 2018
Valentine's Day is the most romantic day of the year, and while millions will celebrate with a dozen red roses or heart-shaped boxes of chocolates on February 14th, over 25 discerning couples in Las Vegas will exchange vows at the gorgeous Chapel of the Flowers. Located on south Las Vegas Boulevard amidst iconic resorts, Chapel of the Flowers offers upscale, sophisticated venues in an idyllic one acre park-like setting, provides a fleet of modern limousines to transport couples on their Big Day, and true to its name, has an on-site floral design team that creates stunning bouquets and other flower arrangements for the ceremony and reception.
Brides and grooms travel from around the world to say "I do" at Chapel of the Flowers, and this must-see destination, a popular photo-op spot in Las Vegas, also receives the highest reviews from couples and their guests. Some of the awards Chapel of the Flowers has received in recent months include: "Best of Las Vegas" (five years); Wedding Wire "Couple's Choice" award (seven-time winner); "Best of the Knot" (eight years in a row); TripAdvisor "Certificate of Excellence" (three years in a row); and Vegas.com "Choice" Award (two years in a row).
The elegant wedding venue has been the destination for true love since 1960. Chapel of the Flowers features serene water features and lush greenery, a cobblestone pathway, a charming gazebo for outdoor ceremonies, and some of the most beautiful indoor chapels found in Las Vegas. Valentine's Day happens to fall on Wedding Wednesday in 2018, and the entire staff of wedding professionals at Chapel of the Flowers is ready to make each ceremony special with their renowned attention to detail.
"We celebrate love every day here at the Chapel, but Valentine's Day falling on a Wednesday is especially exciting for us." said Donne Kerestic, CEO at Chapel of the Flowers. "One of our most memorable Valentine weddings here was when a sweet couple flew in from Hong Kong to elope and exchange vows, before heading back to a traditional wedding and reception with family back home. We also had a couple who renewed their vows with three generations of family in attendance in our Victorian Chapel, the same chapel where they married 50 years earlier, also on Valentine's Day. It was incredible." 
In addition to the classic Victorian, Chapel of the Flowers also offers the glamorous Magnolia, the gorgeous La Capella, and The Glass Gardens, a unique rustic-chic venue with seating for up to 88 guests. Select ceremony times are still available for Valentine's Day, Valentine's week and during the Month of Love at Chapel of the Flowers.
Contact Nicole Robertson at 702-735-4331, or Diane Ferraro at 626-222-9388, with any press inquiries, or to set up time for a live broadcast at Chapel of the Flowers on Valentine's Day. 
About Chapel of the Flowers
Chapel of the Flowers, located at 1717 Las Vegas Boulevard South, has been celebrating love for nearly 60 years. The stunning indoor and outdoor chapels seat between 20 and 88 guests, and receive top ratings from couples around the world as well as from local residents of Las Vegas.
Founded in 1960, Chapel of the Flowers is Las Vegas' highest rated and largest full-service wedding venue, providing traditional, modern and elegant Las Vegas weddings on the world-famous Strip. An acre of cobblestone-accented grounds and vibrant backdrops are designed to capture every picture-perfect moment of a Las Vegas wedding. Professional wedding planners, part of a team of nearly 100 on-site staff members, ensure that every aspect of the wedding day is personal, easy and stress-free. Chapel of the Flowers' impeccable customer service assures the couple that all details of the wedding, including the ceremony, flowers, award-winning photography and reception venues will result in cherished memories for a lifetime. Chapel of the Flowers is honored to be one of the preferred venues in Las Vegas, the wedding capital of the world.