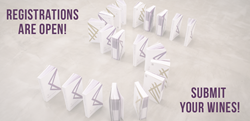 The significance of 5StarWines - The Book starring Wine Without Walls is in the panel of judges made up of highly qualified international experts, sommeliers, wine journalists with qualifications such as Master of Wine and Master of Sommelier.
VERONA, Italy (PRWEB) February 09, 2018
Registrations with early-bird fees are open for 5StarWines starring Wine Without Walls 2018 (http://www.5starwines.it/?lang=en), the grand selection of international wines to be held from April 11th to 13th in Verona, Italy, in the lead-up to the world's largest wine exhibition, Vinitaly (April 15th to 18th). This year the 5StarWines event also takes a leap forward as the wines selected by the international panel of judges will also be indicated as 5StarWines on Wine-Searcher's online listings.
Wineries interested in gaining international visibility through the 5StarWines starring Wine Without Walls 2018 grand tasting can avail of a 15% discount on the registration fee until February 15th 2018. This is, therefore, a timely opportunity for producers to enroll at a discounted price in order to have their wines evaluated by 80 top judges from around the world.
The three-day blind tasting organized by Veronafiere and Vinitaly International will select wines for the second edition of the wine guide 5StarWines - the Book starring Wine Without Walls. The guide puts a spotlight on the continuous efforts made by wineries that invest in the improvement of their products. The judges' careful evaluation will help producers to be recognized on the international markets. All the wines with 90 points out of 100 or above will be labelled 5StarWines on the online listings on Wine-Searcher, one of the most famous web search engines for wine (https://www.wine-searcher.com/critics-46-5starwines+-+vinitaly). The 5StarWines label will also feature on the Vinitaly App during and after Vinitaly for all buyers and trade. Last year this recognition helped many wineries increase their sales during Vinitaly. For example, Barolo DOCG "Bussia" 2013 of Agricola Gian Piero Marrone was selected as one of the Best Italian Wines. After receiving the results from 5StarWines, they sold 900 bottles to a completely new customer from Japan within half an hour from the opening of Vinitaly. "5StarWines label represented our continuous increase in the quality of wines, and it was a great satisfaction and success for all of the family," says Valentina Marrone proudly.
The significance of 5StarWines - The Book starring Wine Without Walls is in the panel of judges made up of highly qualified international experts, sommeliers, wine journalists with qualifications such as Master of Wine and Master of Sommelier. The tasting is chaired by Ian D'Agata, Vinitaly International Academy's scientific director and winner of Louis Roederer International Wine Writer Award 2015 as "Wine Book of the Year" with his Native Wine Grapes of Italy. D'Agata's reputation, expertise, and direction has made 5StarWines an event that guarantees, for international buyers, the quality of wines already present in the market, but still barely known. "I often see that little attention is paid to absolutely spectacular wines made from lesser known grapes and denominations," states Ian D'Agata. "Why should a wine made with lesser known grapes forcibly score lower on average than some famous names in competitions and wine guides? The high quality of those wines need to be recognised as well, and our diverse panel of judges have the knowledge to carefully evaluate them," concludes D'Agata
In addition to the score, 10 trophies await the wineries. "The Winery of the Year - Gran Vinitaly 2018" title will be given to a producer who will achieve the highest score with at least two different wines. The "Best Italian Wine - Banco BPM 2018" recognition will go to the Italian wine with the highest overall score; the "Jury Prize 2018" is the commendation attributed to one wine by the panel of judges. The best wines in each of the tasting's category (White, Rosé, Red, Sweet, Frizzante and Sparkling) will also be given a special mention. Last but not least, the "Best Price / Enjoyment" trophy will be given to the wines that offer the best value for money.
A special feature of the wine guide is Wine Without Walls, a section solely dedicated to the best wines that meet both the following criteria: 1) wines without added sulphites and 2) wines with added sulphites but with a total quantity of sulphites (naturally produced and added ones) not higher than 50mg/l. Chaired by biodynamic wine expert Monty Waldin who has written extensively on organic and biodynamic wine, Wine Without Walls gives recognition to the growing importance and relevance of these wines. The tasting's assessment criteria are not numerical but rather descriptive and include liveliness, evolution, balance, drinkability, individuality, savouriness, clarity and sense of place.
5StarWines - the Book starring Wine Without Walls will be distributed widely during exhibitions, events, B2B meetings, grand tastings, and different showcases, allowing wineries to have access to key players in the global reference market. The guide will also be an efficient promotional tool that will bridge the gap between buyers and wine lovers all around the world.
Please find below some useful links to learn more about 5StarWines
Registrations for 5Starwines with early-bird discounted fee (15% less) until February 15th, 2018
http://www.5starwines.it/?lang=en
Wine Critics section of Wine-Searcher
https://www.wine-searcher.com/critics-46-5starwines+-+vinitaly
Youtube: Ian D'Agata introduces the 5StarWines - The Book 2018
https://www.youtube.com/watch?v=KC4ZC1PmcBo
Youtube: Recap video of last year 2017
https://www.youtube.com/watch?v=Z9HtHhLgRc8
About:
Veronafiere is the leading organizer of trade shows in Italy including Vinitaly (http://www.vinitaly.com), the largest wine and spirits fair in the world. During its 51th edition Vinitaly counted more than 4,270 exhibitors on a 100,000+ square meter area and 128,000 visitors from 142 different countries with more than 30,000 top international buyers (up by 8%). The next edition of the fair will take place on 15 - 18 April 2018. The premier event to Vinitaly, OperaWine (http://www.operawine.it) "Finest Italian Wines: 100 Great Producers," will unite international wine professionals on April 14th in the heart of Verona, offering them the unique opportunity to discover and taste the wines of the 100 Best Italian Producers, as selected by Wine Spectator. Since 1998 Vinitaly International travels to several countries such as Russia, China, USA and Hong Kong thanks to its strategic arm abroad, Vinitaly International. In February 2014 Vinitaly International launched an educational project, the Vinitaly International Academy (VIA) with the aim of divulging and broadcasting the excellence and diversity of Italian wine around the globe. The VIA Certification Course has been launched also in USA and China this year and today counts 122 Italian Wine Ambassadors and 9 Italian Wine Experts who have achieved the higher certification.