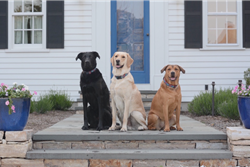 AUSTIN, Texas (PRWEB) February 12, 2018
The Year of the Dog may well turn into the Year of Traveling with Dogs. Just in time for the Chinese New Year — this year falling on Feb. 16 — new online survey data from Ipsos, commissioned by HomeAway®, reveals that an estimated 19 million American families have traveled with, or will travel with, their dog this year.
HomeAway combed the more than two million vacation homes on its website to determine which American destinations are friendliest for travelers' four-legged family members. It found beach and lakeside towns are putting their best paw forward when it comes to welcoming dogs in vacation homes. HomeAway's dog-friendliest destinations list is made up of spots that have the most vacations homes that will allow you to bring your pet.
HomeAway's Dog-Friendliest Destinations include:
1. Four Corners, FL
2. Davenport, FL
3. San Diego
4. Palm Springs, CA
5. Big Bear Lake, CA
6. Los Angeles
7. Kissimmee, FL
8. New York
9. Miramar Beach, FL
10. Hilton Head Island, SC
"These days more dog owners are able to bring their pets when they travel because there are so many homes, cabins and condos to rent for the whole family, even the furry members," said Melanie Fish, HomeAway's family travel expert. "When using HomeAway.com to book an upcoming vacation, travelers simply select whether they are bringing any pets along and search results will include only properties that welcome pets."
In honor of Year of the Dog, which comes along only every 12 years, HomeAway has chosen the five Pet-Friendliest Properties from its list of more than 300,000 vacation rentals worldwide that welcome pets. They come complete with dog ponds, agility courses, dog houses, doggie doors and more.
HomeAway's Pet-Friendliest Properties:
Pine Grove, CA Rental 486140vb
A dog's paradise, this home includes a private dog pond, 60 acres of fenced-in freedom and an agility course for dogs.
2 beds / 1.5 baths / sleeps 6
$309 avg./night (Approx. $52 per person, per night)
Cannon Beach, OR Rental 707776vb
This beach cottage features a dog door, giving Fido his own special entrance.
2 beds / 1 baths / sleeps 4
$195 avg./night (Approx. $49 per person, per night)
South Lake Tahoe, CA Rental 476460vb
Equipped with both a log dog bed and house, this home gives dogs their own version of a valley retreat.
4 beds / 2 baths / Sleeps 8
$200 avg./night (Approx. $25 per person, per night)
Payson, AZ Rental 489287
This secluded home not only includes a fenced-in yard, but the owners also donate 5 percent of their gross income to their local animal shelter to give back to pets in need.
2 beds / 2.5 baths / Sleeps 4
$180 avg./night (Approx. $45 per person, per night)
Nags Head, NC Rental 3474436
This beach house invites dogs to take a dip in its paw-shaped pool.
5 beds / 4 baths / Sleeps 14
$248 avg./night (Approx. $18 per person, per night)
About HomeAway
HomeAway, based in Austin, Texas, is the world's leading online marketplace for the vacation rental industry with sites representing more than two million unique places to stay in 190 countries, and is a part of the Expedia family of brands. For more information about HomeAway, please visit http://www.homeaway.com.
© 2018 HomeAway. All rights reserved. HomeAway and the HomeAway logo are trademarks of HomeAway. All other trademarks are property of their respective owners
###
[1] Source: Source: An Ipsos, Inc. online survey conducted Jan. 18-19, 2018, on behalf of HomeAway found that 32 percent of dog owners in the U.S. have traveled with, or will travel with, their dog(s) in 2018. In the U.S., 60.2 million households own dogs, according to the 2017-2018 National Pet Owners Survey, conducted by Ipsos, Inc. The figure for how many American families have traveled with, or will travel with, their dog this year is a projection based on this survey finding.