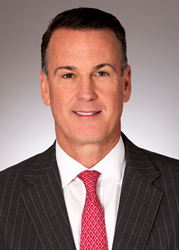 NEW YORK (PRWEB) February 12, 2018
Wilmington Trust has appointed Chris Mone as president of U.S. Markets. In this leadership role, he is responsible for the strategic direction, leadership, and growth of Wilmington Trust's high-net-worth wealth management business.
Mone is empowered to deliver the vast resources of the company through a team of investment professionals, market leaders, regional leaders, and business partners all dedicated to serving the comprehensive wealth management needs and exceeding the expectations of our clients. Partnering closely with other members of the wealth leadership team, he will work to achieve the goal of doubling new wealth management business over the next five years.
He has more than two decades of broad experience in the financial services industry. Mone most recently served as president of the Los Angeles region for BNY Mellon Wealth Management. Originally from New York, Mone holds a Juris Doctorate from Fordham University School of Law, a bachelor's degree from St. John's University, and was an adjunct professor at Northwestern University teaching trust, estate, and retirement planning.
"We are very pleased to bring Chris aboard as we continue to build on our leadership position in wealth management," said Doris P. Meister, executive vice president of wealth management at Wilmington Trust. "In addition to his deep experience in wealth management, Chris has a proven track record in building strong businesses that deliver high levels of client engagement and growth."
Based in Wilmington Trust's New York City office at 350 Park Ave., he can be contacted at (212)415-0565.
ABOUT WILMINGTON TRUST
Wilmington Trust, N.A. provides Corporate and Institution Services including institutional trustee, agency, asset management, retirement plan services, and administrative services for clients worldwide who use capital markets financing structures. The corporate and institutional division is distinguished from many competitors by its status as a core business of Wilmington Trust, as well as the experience and expertise of its global staff and its multi-jurisdictional presence.
Wilmington Trust also provides Wealth Advisory services with a wide array of personal trust, financial planning, fiduciary, asset management, and family office solutions designed to help high-net-worth individuals and families grow, preserve, and transfer wealth.
Wilmington Trust has clients in all 50 states and in more than 90 countries, with offices throughout the United States and internationally in London, Dublin, and Frankfurt. For more information, visit http://www.WilmingtonTrust.com.
MEDIA CONTACT: Kent Wissinger, Wilmington Trust PR Manager (302) 651-8758
Wilmington Trust is a registered service mark. Wilmington Trust Corporation is a wholly owned subsidiary of M&T Bank Corporation. Wilmington Trust Company, operating in Delaware only, Wilmington Trust, N.A., M&T Bank and certain other affiliates, provide various fiduciary and non-fiduciary services, including trustee, custodial, agency, investment management and other services. International corporate and institutional services are offered through Wilmington Trust Corporation's international affiliates. Loans, credit cards, retail and business deposits, and other business and personal banking services and products are offered by M&T Bank, member FDIC.