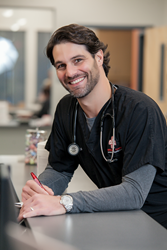 BOILING SPRINGS, S.C. (PRWEB) February 12, 2018
Whether Dr. Jeff Harris is winding up on the pitcher's mound or providing urgent care to patients, the former LSU pitcher and two-time College World Series Champion brings his "A" game. These days, instead of rounding the bases, Dr. Harris is now making rounds at the new American Family Care (AFC) in Boiling Springs, one of eight AFC clinics to open in the Upstate as part of the medical chain's aggressive expansion. The new urgent care facility will open Friday, February 16th at 2746 Boiling Springs Road. Dr. Harris currently serves as the Medical Director for the Easley and Powdersville AFC locations and will add Boiling Springs to his line-up.
"I approach providing medical supervision and care to my patients the same way I would prepare for any game…with laser focus, a team player mentality, and a commitment to excellence," said Dr. Harris.
From the Mound to Medicine
Harris' career path into medicine resulted in large part from a nagging shoulder injury that cut his sports career short. At the encouragement of LSU's team orthopedist, he turned in his glove for a stethoscope.
The Louisiana native son might have stayed on in the Bayou State if not for Hurricane Katrina. In 2007, he and his wife Danielle, a local OB-GYN, chose to start over in Greenville, just as things were getting ready to take off in the Upstate. Before serving as Medical Director of the AFC locations, Harris practiced family medicine and worked in both the Greenville Hospital Systems and Bon Secours at St. Francis. He has provided cradle-to-grave care for acute and chronic cases and brings more than 15 years' experience to the Boiling Springs community.
The Harris' and their two young children now happily call the Upstate their home.
Prescription for Success
The Birmingham, Alabama- based American Family Care is the nation's leading provider of urgent and primary care more than 190 clinics and 600 in-network physicians caring for nearly 3 million patients a year.
The Boiling Springs clinic is the third of eight AFC locations executives with Upstate Healthcare Holdings plan to open in Greenville. Upstate Healthcare Holdings managing members Tim Groves and Paul Sparks opened an AFC Urgent Care in Easley and Powdersville in 2016 and 2017 and have plans to open a center in Greenwood and Duncan later this spring.
"The whole Greenville area is exploding with new residents, retail and manufacturing," says Tim Groves, a former executive in hotel management who invests in urgent care because he sees the desperate need for affordable, quality care in our area. "We want to bring the same level of non-emergency room treatment options to growing communities throughout the Upstate. "We will continue to look at new areas we can serve along the I-85 corridor and into northern South Carolina."
Exploding Growth
Over the past 35 years, American Family Care has pioneered the concept of non-emergency room urgent care and expanded its footprint across 26 states. All AFC clinics are designed, equipped and staffed to provide accessible primary care, urgent care and minor emergency treatment. Each clinic features a high-tech approach, including digital x-rays, on-site lab testing, state-of-the-art diagnostics, and electronic medical records. The clinics are staffed by kind, caring and compassionate health care professionals. The Boiling Springs clinic will serve patients seven days a week and no appointments are necessary.
AFC's Boiling Springs location will also feature a full suite of occupational medicine and workers' compensation service. These services include OSHA-mandated medical surveillance exams, D.O.T. and non-D.O.T. drug screens and physicals and breath alcohol tests, among many other services.
American Family Care Boiling Springs opens Friday, February 16th.
2746 Boiling Springs Road
(864) 586-3923
http://www.afcurgentcare.com/locations/afc-urgent-care-boiling-springs
About American Family Care:
Founded by Dr. Bruce Irwin with a single location in 1982, American Family Care has pioneered the concept of non-emergency room urgent care. With its 2013 acquisition of the Doctors Express, AFC has become the nation's leading provider of urgent care, accessible primary care, and occupational medicine, with more than 190 clinics and 600 in-network physicians caring for nearly 3 million patients a year. Ranked by Inc. Magazine as one of the fastest growing companies in the U.S., AFC's stated mission is to provide the best healthcare possible, in a kind and caring environment, while respecting the rights of all patients, in an economical manner, at times and locations convenient to the patient. For more information, visit http://www.AmericanFamilyCare.com.