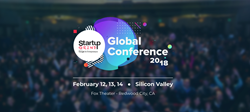 Startup Grind has grown to over one million companies from 115 countries and 400 cities, illustrating the incredible innovation within its network
PALO ALTO, Calif. (PRWEB) February 10, 2018
Startup Grind today announced that it has invited 134 innovative companies to join the ranks of some incredible past startup conference exhibition members. Last year, Startup Grind selected from thousands of companies that were headquartered across 80 countries and 200 cities.
This year, Startup Grind has grown to over one million companies from 115 countries and 400 cities, illustrating the incredible innovation within its network. According to Derek Andersen, Founder and CEO of Startup Grind, "The 134 innovative companies represent a diverse set of products and services that are already disrupting their respective industries. This includes everything from the Tripadvisor of shopping to edtech products to decentralized social networking platforms and more. We wanted to select the most unique companies out there to provide benefit for them and for those attending."
Startup Exhibition companies will be one of the major features of the upcoming Global Event held February 12th through 14th in Redwood City, California. As part of the exhibition, these 134 companies will be able to gain visibility among attendees that include mentors, investors, media representatives, industry leaders, fellow entrepreneurs, and potential customers. There are opportunities during the conference to participate in demo days, illustrating the benefit of their company's product or service.
Andersen added, "We are excited to have such prestigious investors on hand like Accel, Blumberg Capital, Intel Capital, and many others. This provides these innovative startups with an opportunity to get financial, strategic, and technical guidance on all aspects of their businesses to help raise them to the next stage of growth. Plus, these 134 elite companies will be able to benefit from the networking opportunities to further their knowledge, experience, and contacts."
Tickets are still available here.  
About Startup Grind
Startup Grind is the largest independent startup community, actively educating, inspiring, and connecting 1,000,000 entrepreneurs in over 400 cities. We nurture startup ecosystems in 98 countries through events, media, and partnerships with organizations like Google for Entrepreneurs. The cornerstone of our global community are monthly events featuring successful local founders, innovators, educators and investors who share lessons learned on the road to building great companies. Founded in Silicon Valley, Startup Grind has now hosted 1641 fireside chats in 2017. To date, Startup Grind has helped millions of entrepreneurs find mentorship, connect to partners and hires, pursue funding, and reach new users. Learn more at https://www.startupgrind.com.
For more information, please contact:
Deanna Rampton
Startup Grind
1491 Edgewood Dr.
Palo Alto, CA
deanna(at)startupgrind(dot)com
###
Agbara Life Inc. -- Agbara Life creates apparel that is at the intersection of Fashion, Technology and Social Impact.ArborArbor is a smart home company with a passion for innovation and smart living.
Hive Refrigeration -- The Hive is an innovative way to store food no matter the location.
NOCORI -- NOCORI is revolutionizing the gym bag industry by creating luxury leather goods for the athleisure movement.
Wearibly -- Wearibly is a medical wristband that stores kid's information.
Appocalypse, Inc (Boty App) -- BOTY is a mobile app and community connecting people at the bar.
Aqua-Yield -- Aqua-Yield™ is a rapidly-growing sustainable fertilizer technology company.
ASDAL INC -- ASDAL is software, management, and marketing for the Amazon platform.
Ask Brien Inc -- Ask Brien is a business site where businesses can find solutions to business problems, have experts, professors or the community answer business questions and take business classes.
BookBandit -- BookBandit is a web and mobile application offering books from vendors so students can  barter their old textbooks and notes to one another.
Boost Linguistics -- Boost Linguistics is an AI-based solution for content marketing.
Brandzy AB -- Brandzy is a branding service that allows businesses to get quality branding at affordable prices.
CARDEALS2ME -- CARDEALS2Me is the first platform that connects consumers in a free, timely and anonymous way to the best new and used car quotes from dealerships and individual salespeople in under two business hours.
Celitech -- Celitech Inc. aims to create the "https" of mobile connectivity by improving the way devices like smartphones widely access the internet via cellular networks.
Chasyr -- Chasyr is a cryptocurrency-powered ride sharing company that will use blockchain technology to recreate the industry altogether.
CoFit -- CoFit connects individuals who are looking to enhance their personal fitness experience.
College Collections -- College Collections is a marketplace for students.
Common Connect App -- Common Connect App allows you to connect with professionals who share a common interest.
ConnecPath Inc. -- ConnecPath is an edtech company that connects US high school students to their best-fit colleges amazingly fast by providing a web/mobile knowledge sharing platform driven by AI that consists of chatbot and forum.
ConnectBud -- ConnectBud is a APP platform where you can find current students, alumni, and professors and get connected to them right away on one-to-one voice call.
Dermveda -- Dermveda is the trusted resource for skin care education. With an extensive library of original peer-reviewed content, Dermveda offers tools and information to help with understanding chronic skin diseases or the latest beauty trend.
DigiDoctor -- DigiDoctor is an e-health platform connecting patients around the world to a doctor who speaks their language and understands their culture.
Dynheer -- Dynheer connects home cooks looking to build their brand with foodies looking for experiences to dine with new acquaintances.
FamPlan -- FamPlan is the world's most innovative Family Communication Platform that allows each family member to effectively share information and ideas to better champion one another and the family as a team.
Feral Innovations, Inc. (mfoods) -- Feral Innovations is dedicated to creating mobile and web applications that empower product vendors to expand their markets and revenue through managed services, data analytics, and national branding.
FlashMap -- FlashMap is a location-based platform (map view just like Uber/Lyft) created to help users find instant specials, flash sales, and deals that local businesses offer.
FoodEase Inc. -- FoodEase lets you enter the names of ingredients and then displays the possible dishes that can be made with them.
Formrly -- Formrly is the easiest and most secure way to send full digital smart forms to anyone via text direct to your iPhone or iPad.
Fortunito -- Fortunito offers rewards and prizes for watching ads.
FundersToken -- FundersToken is a blockchain solution.
Furniprice -- Furniprice is a global marketplace platform specializing in furniture and interior products, uniting buyers and sellers from all over the world.
geekApps -- GeekApps is an end-to-end DIY native app development platform.
Gogo Juice -- Gogo Juice is a web-based system to control any powered device remotely.
GYMLETE, Inc. -- GYMLETE is an iOS fitness app that allows users to create customized workouts, choosing from 700+ exercises to create a unique fitness experience for individuals and groups.
Homewip -- Homewip is an online remodeling assistant.
Infinite Foundry -- Infinite Foundry is a cloud platform for industry, allowing the user to 3D design and virtually test any product directly through the browser and to manage engineering data from supply chain.
ISSOYO -- ISSOYO is a digital relocation service.
Juble it! -- Juble it!  help creators get paid and seen.
KikiApp -- KikiApp is the first app that pays you for having fun.
Kloop -- Kloop allows you to explore and monitor the web with friends and family.
Knock Knock City -- Knock Knock City is like Airbnb for luggage storage.
Meetcaregivers -- Meetcaregivers connects families, caregivers, and care teams.
MelpApp -- MelpApp is an all-in-one communication and collaboration platform that gives businesses a more efficient way to collaborate with their internal and external teams.
Mojavie -- Mojavie offers SaaS solutions and mobile apps to solve common global problems.
Native -- Native is an on-demand company enabling businesses to task trained locals to collect data on their behalf and analyze results in real time.
Nectar Agriculture
Nectar Agriculture makes intelligent, automated farms to deliver locally grown food at scale.
Neurological Rehabilitation VR
Neurological Rehabilitation VR creates VR/AR therapy games for cognitive and physical neurological rehabilitation leveraging the breakthroughs in neuroplasticity for stroke and brain injury patients.
Novus Energy Technologies, Inc.
Novus Energy Technologies, Inc. is a rapidly growing energy market disrupter with a global focus on next-generation innovative solid state cooling, heating, and power generation.
ntropy data, Inc. -- Ntropy Data is a data capture and analytics company that rewards users for sharing their data and providing their feedback through a mobile application.
Onata -- Onata is an ecosystem for the Universe of Services.
OneBar -- OneBar is an enterprise search solution for SMBs.
Orion -- Orion wants to change how five billion people in developing countries interact with their mobile devices and the physical ecosystem that surrounds them.
Photolemur -- Photolemur is the world's first intelligent photo enhancer.
Poshhood -- Poshhood  provides a better local communication between businesses and consumers, businesses and businesses, and consumers and consumers using zip codes.
Projectlab, Inc. -- Projectlab is a project management application designed for human beings.
RebateLeads, Inc. -- RebateLeads is a user-friendly start-up designed to change the way real estate representation search is done by making it unbiased and referral-free.
Secberus -- Secberus is a Cloud Infrastructure Security SaaS platform that helps DevOps, Risk Managers, and Security Engineers to assess, track, and remediate cyber risk.
SharedWorkshop -- SharedWorkshop is a peer-to-peer marketplace platform that solves factory floor slack by matching those factories have excess manufacturing capacity to companies and individuals who need it.
Sidekick.co -- Sidekick is a B2B Cloud Marketplace.
SimpleSense -- Simple Sense is presence data that just works.
SklIQ (SQUARED Methods Corp) -- SkliQ is a Human Intelligence Platform in the cloud.
sobu Group Ltd. -- Sobu Group is the Tripadvisor of shopping.
Solaborate -- Solaborate is a productive communication platform for teams.
Sponsor Burst, Inc. -- Sponsor Burst is a cloud-based sponsorship platform that connects brands with advertisers using big data and predictive analysis.
Sporddy -- Sporddy helps find people to practice your favorite sport at anytime and anywhere.
STEMergy -- STEMergy is an edtech Initiative to inspire children to get creative and innovative in the field of S.T.E.M.
Streetography -- Streetography is a powerful photo-map platform that enables businesses to use technology to enhance their website with photos inlaid within the boundaries of neighborhoods, states, and more.
Supportbench Services Inc. -- Supportbench Services is a customizable, multi-channel customer service platform that empowers reps to quickly resolve issues.
SwagUp -- SwagUp brings simplicity and quality to the world of branded swag.
The PlatForum -- The PlatForum connects students to jobs, enables community reliance, and decreases company turnover costs.
Ticktack -- Ticktack is a decentralized social network completely respects free-market economy.
Truxx, Inc. -- Truxx connects users that need items moved with drivers that own pickup trucks or vans.
Unibui Inc. -- Unibui is a student marketplace.
UpLaunch -- UpLaunch is a marketing automation platform that connects small business with subject matter experts in their industries.
Viewly -- Viewly is a decentralized video platform.
Voir Visuals Co. -- Voir Visuals is an online marketplace where anyone can find skilled and affordable artists, designers, and photographers.
VoizBuzz LLC -- VoizBuzz is social media app for your voice.
Wana Family Network LLC -- Wana Family Network is committed to making babysitting free for everyone.
Wanderift -- Wanderift is the first unlimited airline travel membership platform.
Wolf Flow, LLC -- Wolf Flow is workflow management software that helps professionals eliminate multitasking inefficiencies and desktop disorientation by creating dedicated environments for each project or task.
XcooBee LLC -- XcooBee is a privacy-focused exchange network.
Xlancing -- Xlancing is a Click 'n Book Freelancing and Opportunity Matching platform.
Zeguro -- Zeguro provides tailored cyber insurance and a virtual cybersecurity officer for small to mid-sized enterprises to actively mitigate identified risks.