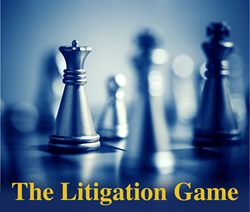 Become the Litigation Game Theory Analyst in Your Organization and Master The Litigation Game.
HONG KONG (PRWEB) March 13, 2018
The Litigation Game
Litigation is a hard-fought conflict between opposing economic interests. But although the battle lines are clear enough, decision making is not so simple. With the potential for strategic interaction between legal opponents, litigation is also a complex puzzle with all the characteristics of a competitive game. The optimal decision or strategy for any plaintiff or defendant is not only a matter of individual opinion or unilateral action; legal adversaries push back and have an economic effect.
Litigants and their counsel must answer a more complex question: What decision or strategy is optimizing given an uncertain strategic response from an equally self-interested legal opponent? Fully considered, this is a very difficult question, which is not easily solved with intuition or traditional decision-making tools. But fortunately it has an answer. Welcome to the world of litigation game theory (LGT).
For more than thirty-years this more nuanced understanding of litigation has been enabled by advanced research in the field of legal-economics. Founded on Nobel Prize-winning ideas, the resulting game theory models of legal dispute have provided an analytic framework that is simply better suited to the questions at the heart of any lawsuit.
Previously the preserve of legal-economic scholars, this important body of knowledge has now been developed as exclusive professional development programs for practitioners, corporate litigants and law firms. For the first time, this essential analytic skill set and way of thinking about the legal battle can be incorporated into litigation practice and legal operations.
SettlementAnalytics is pleased to announce the launch of two specialty programs in applied litigation game theory: Litigation Game Theory for Legal Professionals (LGT-LP) and Litigation Game Theory for Financial Analysts (LGT-FA). Both courses are designed as intensive certificate programs, delivered over four consecutive half-day sessions. LGT Programs are available both as live online and corporate on-site courses.
About LGT Programs
LGT-LP has been developed as an introduction to applied litigation game theory for experienced legal counsel, litigators and dispute resolution professionals. The focus of this program is on a conceptual qualitative understanding of litigation game theory and relevant canonical models. LGT-LP is designed for a mostly legal audience who wish to take their legal practice and strategic thinking to the next level.
LGT-FA has been developed as a more advanced introduction to applied litigation game theory for CFOs, financial analysts, claims analysts and legal counsel with a quantitative background. The emphasis of this program is on developing a quantitative understanding of the canonical game-theoretic models of litigation and their appropriate refinement for practical application and financial economic considerations.
Participants in LGT Programs will learn to use a game theory analytic framework to optimize legal-economic decision making, maximize/minimize claim value/exposure, improve the legal cost-information trade-off, and examine dispute risk in a bilateral context. Overall, LGT Programs enable participants to better analyze the complex economic drivers of legal conflict and illuminate the 'economic DNA' of any dispute.
Both programs are characterized by an emphasis on the practical application of litigation game theory and the analysis of legal dispute in a settlement bargaining context. Neither program requires or assumes prior knowledge of game theory or legal-economics.
LGT Programs Faculty
The instructor for both LGT Programs is Robert Parnell, president and CEO of SettlementAnalytics. Mr Parnell is a pioneer in applied litigation game theory. He is responsible for developing the first fully-specified set of signaling and screening models for litigation and settlement bargaining, the first game theory analytics software platform, and the first-ever commercial application of trial selection theory. Mr Parnell has written numerous articles on the practical application of litigation game theory and given seminars for major law firms and corporate litigants. Robert is a holder of the right to use the Chartered Financial Analyst® designation. He has an undergraduate degree in physics from King's College London, an MBA from the Ivey Business School and a law degree from the University of London.
Registration Now Open
Registration for 2018 online programs is now open. Candidates can submit their application forms on the SettlementAnalytics website at https://settlementanalytics.com/lgt/applications/.
Initial dates for LGT online programs are as follows. The first two LGT-LP courses are scheduled for May 21-24, 2018 and September 17-20, 2018. The first two LGT-FA courses are scheduled for June 18-21, 2018 and October 22-25, 2018.
As each course is comprised of live, instructor-led online classes, space for each cohort is limited and preference will be given to early applications.
Participants in LGT online programs will also be eligible to receive a one-month complementary trial account for the SettlementAnalytics litigation game theory software, OptiSettle. The first five approved applicants for each cohort will be eligible to receive a three-month trial account. To learn more about the OptiSettle platform visit https://settlementanalytics.com/resources/opti-settle-applications/.
"We are very pleased to launch the first professional development programs in litigation game theory. We believe this initiative achieves the long-overdue goal of mobilizing an important decision-making framework for practitioners," said Robert Parnell, LGT Programs Director. "It also lays an essential foundation for the development of a new legal-analytic discipline and organizational function with its own distinct body of knowledge – that of the litigation game theory analyst. The LGT analyst possesses the knowledge and skills to analyze the full economic complexity of any legal dispute and bring greater analytic rigor to litigation decision making."
Become the litigation game theory analyst in your organization, and master the litigation game. To learn more about LGT Programs visit: http://www.settlementanalytics.com/lgt/.
SettlementAnalytics – The Science of Litigation™
About SettlementAnalytics
SettlementAnalytics is a legal-economics research, consulting and software development firm. The company is focused on the application of game theory, trial selection theory and other model-based approaches to the analysis of litigation and settlement decision making. SettlementAnalytics created and established the game-theoretic analysis of legal dispute as a practical analytic discipline in 2011, and for more than seven years has led the way as the preeminent consultant and software developer in this field. The firm's flagship software application — OptiSettle™ — is the first-ever game theory analytics platform for legal and disputed insurance claims, combining 24 advanced canonical and proprietary game-theoretic models.
For more information please contact:
Robert Parnell, CFA, LLB
President and CEO
Tel: +852 3589 3377
Email: info(at)settlementanalytics.com
SettlementAnalytics.com
SettlementAnalytics
Macro Research Associates Limited
Suite 1479, 26/F, Beautiful Group Tower
77 Connaught Road, Central, Hong Kong