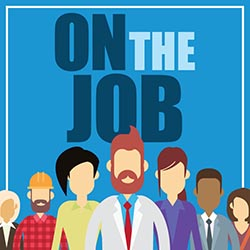 Finding the right career fit can take some creativity and time, but for these inspiring individuals, it was worth it. - Bob Funk, Express CEO
OKLAHOMA CITY (PRWEB) February 14, 2018
After a successful first season, the podcast series, On the Job: From Hired to Retired, is back for eight more episodes featuring inspiring stories of real people and their career journeys, including what they learned along the way.
The podcast is presented by Express Employment Professionals and shares personal accounts about the pursuit of work. Jobs give us a connection to our community and the ability to provide for ourselves and our families. On the Job presents interesting stories about the way people work and what it means to be employed.
The series kicks off Tuesday, Feb. 13 with Yingchang Song, a 68-year-old dentist and immigrant. Ten years ago, after his wife passed away, Song moved from China to Los Angeles. A retired dentist, Song believed he could continue his practice in the U.S., but when he realized the recertification process would be very difficult, he decided to indulge in his lifelong passion: playing the erhu, a traditional Chinese instrument..
Song makes ends meet as a street performer and sharpening scissors in the Garment District. When he's not earning a living, he takes English and citizenship classes at the local library. After 10 years in L.A., he's committed to saving money and eventually taking his erhu on the road, in his version of the American Dream.
New episodes of On the Job will debut each Tuesday through April 3 and are available on iTunes or anywhere you listen to your favorite podcasts.
"This season really focuses on people pursuing their passions and how doing so completely changed their lives," said Bob Funk, Founder and CEO of Express Employment Professionals. "Finding the right career fit can take some creativity and time, but for these inspiring individuals, it was worth it."
If you missed season one of the On the Job podcast, catch up at ExpressPros.com/Podcast.
About Express Employment Professionals
Express Employment Professionals puts people to work. It generated $3.4 billion in sales and employed a record 540,000 people in 2017. Its long-term goal is to put a million people to work annually. For more information, visit ExpressPros.com.
For More Information:
Sheena Karami
Express Employment Professionals
(405) 840-5000
sheena.karami(at)expresspros(dot)com