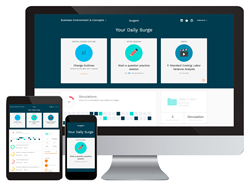 DEVON, Pa. (PRWEB) February 13, 2018
Surgent CPA Review's Premier Pass has been named one of Accounting Today's 2018 Top New Products, earning the number one rank in the Professional Education category. This award is given to only the most innovative products on the market, with the kind of data-driven technology leading the revolution of the accounting industry.
Fewer candidates are passing the CPA Exam than in years past, with average pass rates barely reaching 48% in 2017. The low rate of success amounts to dollars and time lost for accounting firms, and endless frustration for CPA candidates and their employers.
Surgent's Premier Pass course addresses this industry roadblock by using its proprietary adaptive learning technology, A.S.A.P. Technology, to generate a study path that's customized to each individual's unique starting point-and supporting that path with ongoing 1-on-1 coaching. Dedicated success coaches provide an extra level of feedback and guidance for Premier Pass students, further ensuring success on exam day. This combination of adaptive technology and mentoring has been changing the way candidates prepare for the CPA Exam, cutting average study times in half, while leading to an 89.7% pass rate, which is nearly double the national average.
Students start with the Assessment Phase, completing a series of quizzes that enable the software to determine their level of knowledge across all exam topics. Using assessment results and CPA Exam topic weightings, A.S.A.P. Technology software generates study plans comprised of quizzes, videos, reading material, and simulations. In addition to the online study materials, more traditional materials, such as printed textbooks and flashcards, are also used.
The software's real-time algorithm continually adapts study material based on student performance, focusing on improving comprehension in weaker areas. Trending scores are computed as well, which indicate a student's overall exam preparedness and topic-by-topic understanding. Given this data, students no longer need to guess whether they are exam-ready or not. Premier Pass's dedicated Success Coaches further ensure students are on track to pass the exam by offering ongoing guidance on everything from study and test-taking tips, to answering questions on material. Course features also include unlimited course access, free content updates, mobile-friendly software, and a mobile flashcard app.
For more information about the Premier Pass and A.S.A.P. Technology, please visit https://www.surgentcpareview.com/shop/premier-pass/
Surgent CPA Review is one of the fastest-growing CPA Review programs in the country. Surgent CPA Review builds on the strengths of Surgent (a 30-year leader in tax, accounting, and finance professional education) and Kolar CPA Review (a program developed based on Liz Kolar's 20 years of teaching CPA Review in Pennsylvania, New Jersey, and New York). By bringing these two leaders together, Surgent CPA Review is able to provide unprecedented support to CPA candidates looking for a new approach to exam preparation.