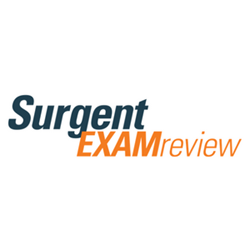 By customizing each student's study matrial to their own assessments and progress through the course, each student recieves the very best - and most efficient - review experience.
DEVON, Pa. (PRWEB) February 13, 2018
Surgent Professional Education, which is known for its CPA Review software and Continuing Professional Education (CPE) curriculum, expanded its offering this month when it rolled out four additional exam review products on Surgent.com. These exam review courses include EA Review for Enrolled Agents, CMA Review for Certified Management Accountants, CIA Review for Certified Internal Auditors, and CISA Review for Certified Internal Systems Auditors. These courses feature Surgent's proprietary A.S.A.P. Technology software. This software makes exam review far more efficient, effective, and intuitive than it is with any other review provider on the market.
A.S.A.P. Technology - which stands for Adaptive Study and Accelerated Performance - is an advanced adaptive learning software that creates a customized review experience that keeps students focused on studying their weaker areas of comprehension, instead of what they already know. As a result, Surgent students achieve higher pass rates on their certification exams while greatly reducing study times.
Students begin by completing the Assessment Phase, made up of a series of quizzes which enable the software to identify the individual student's unique areas of comprehension across exam topics. They progress to the Study Phase, in which the software produces study plans based on assessment results as well as real exam topic weightings. To ensure ongoing efficiency, real-time algorithms continually adapt the study material as the student makes their way through the course. Studying is rounded out by the Review Phase, which includes unlimited practice exams, so students can be sure they're going into exam day fully prepared. This platform also includes Trending Scores, which indicate a student's level of comprehension both overall and for each exam topic, free content updates, and mobile-friendly software.
Surgent believes in the power of personalized education. Evan Kramer, CEO of Surgent says, "Whether taking the Enrolled Agent Exam upon graduating from college, or the Certified Internal Auditor Exam after spending 20 years in the workforce, every student approaches an exam with a different level of knowledge. By customizing each student's study material to their own assessments and progress through the course, each student receives the very best - and most efficient - review experience possible for their unique circumstances."
Surgent students have already achieved remarkable success using A.S.A.P. Technology in Surgent CPA Review, where it was incorporated one year ago. Students studying with Surgent CPA Review have seen their study times cut in half while achieving pass rates that are nearly double the national average for the rigorous four-part CPA Exam.
Surgent Professional Education is a fast-growing company with a 30-year history of leadership in accounting, finance, and tax education. For most of the company's long history, Surgent has been known as one of the most trusted providers of the Continuing Professional Education (CPE) that CPAs need to earn each year to maintain their professional credentials. More recently, Surgent has become one of the fastest-growing CPA Exam Review course providers, helping aspiring CPAs pass the rigorous 4-part CPA Exam while saving as much as 400 hours of study time compared to competitors' review courses.
To learn more about Surgent's new exam review products, including access to a free trial, go to https://www.surgent.com/exam-prep/accounting.