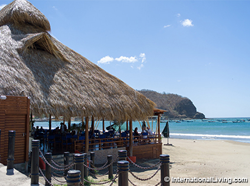 This is a great place to be a single woman
BALTIMORE (PRWEB) February 13, 2018
When it comes to retiring abroad as a single—some places are better suited than others.
Those spots which provide a well-established expat community make connecting on the ground, getting questions answered, finding what you need, settling in, and making friends relatively easy. That's a big positive for somebody traveling solo or planning to retire overseas alone. That "built-in" network provides a welcome level of comfort.
Combine that "built-in" network with a comfortable level of personal safety, a vibrant local culture that provides plenty of activities and distractions, a low cost of living, and good weather, and solo expats report: It's a winning combination.
"Particularly among women traveling alone—personal safety is often the number one concern. It's ours at International Living as well—it's the first thing we consider when we're evaluating the merits of a place expats might consider retiring (whether they're single or part of a couple)," says Jennifer Stevens, Executive Editor, International Living. "We're only recommending communities we feel are safe."
Solo Baby Boomers who have made the move to these good-value places International Living recommends report they've embraced a lifestyle in retirement that's fulfilling, enjoyable, low-stress, and way more affordable than it would have been at home.
In these four top locales overseas, life as a single abroad is enriching and invigorating…
Ecuador, the Land of Eternal Spring, is a popular destination for singles. It uses the U.S. dollar as its currency and offers a low cost of living as well as a variety of communities welcoming for single expats, among them—Quito, the capital, offers a vibrant city life; Cuenca, a university town, provides a slow pace and lots to do. Manta and Salinas on the Pacific coast both offer warm weather and great beaches.
Tari Gliedt, 59, is one of a growing number of singles who are discovering Salinas as a great place to live. "There are a lot of us," she says. "There was a kind of support group here, nothing formal, but we called it the Uscalinas Singles," a title they got from combining U.S., CA (Canada), and Salinas. "I've never been uncomfortable traveling as a single woman, but it is nice when you land somewhere to have some support."
As to the cost of living for a single person in Salinas, Tari says, "I would say if you want to live on the malecón (esplanade), with water, electricity, phone, cable, internet, and some groceries and entertainment, figure around $1,000 a month. But if you live off the malecón, I think you can shave $300 from your budget. Get a roommate and you can almost halve that."
Tari rents a condo in a building where the staff takes care of maintenance and so on. She can just "lock and leave" anytime she gets the urge to travel. "I have a home base now, and I'm free to explore Ecuador, South America—wherever I feel like going."
Mexico
Mexico, a close neighbor of the U.S., has more North American expats than any other foreign country in the world. It's close and convenient, it's largely First World, and has excellent expat communities all over.
And this Spanish-speaking country has four destinations where you can get by in English: San Miguel de Allende and the Lake Chapala area, both in the interior of central Mexico; Puerto Vallarta, on the Pacific Coast; and the Riviera Maya, along the Caribbean Coast of Mexico's Yucatán Peninsula.
But one of its main attraction for singles is its affordability. Mexico offers a cost of living as low as half that of the U.S. and Canada.
International Living Mexico Editor, Glynna Prentice moved to Mexico on her own 11 years ago. She says, "I'm single and I moved for many of the same reasons others move abroad. I was tired of high-stress jobs and wanted to enjoy life while I was still relatively young. And, looking ahead to the future, I saw no way to save enough to enjoy the quality of retirement I'd want in the U.S. But in Mexico, where cost of living is much lower, my budget affords me a very comfortable lifestyle."
Nicaragua is a beautiful country that boasts a dramatic Pacific coastline, long Caribbean beaches, volcanoes and fresh water lakes that dot the hilly inland. A nation at peace. In low-cost Nicaragua, singles like the lovely colonial city of Granada, and the beach town of San Juan del Sur.
After working at Macy's in a small town outside Austin, Texas for 18 years, Linda Pothoff moved to San Juan del Sur. She says, "This is a great place to be a single woman. I feel very safe because there is such a low crime rate. In fact, Nicaragua is the safest country in Central America. When I look at the news from the U.S. and read about all the murders every day and all the other reported crimes, I'm so glad to be in this country.
"After a family vacation to San Juan del Sur, I decided that I had found my paradise. A cute little beach town full of life. Young people, old people, but most of all very happy people. The Nicaraguan people were so nice. The expats all seemed to be enjoying their lives, and a lot of them have been here for 10 to 15 years.
"For a single person, the low cost of living is the biggest advantage. It is much less expensive to live here, and I love living in a small community. It's so easy here to start a conversation with other expats and find out where they are from and what brought them here."
Malaysia, a Southeast Asian gem, has been a popular expat destination since the late 1960s. As a former British colony, English is widely spoken in Malaysia—making it relatively easy to get around and to make friends. Here expats can own property freehold, there is no inheritance tax, and Malaysia places no tax on income earned overseas.
Penang is a small tropical island off the west coast of peninsular Malaysia. It has a population of just over 700,000, with the majority living in the capital, George Town—a bustling UNESCO World Heritage City.
As a single woman, Cheryl Fankhauser was looking for a safe and welcoming place to settle, with a thriving social scene. Penang ticked those boxes. She says she found the locals friendly and she loved the fact that everything in George Town is walkable and safe. Even "walking around here at midnight is never an issue," Fankhauser says.
Engrossing herself in the expat community in Penang, she says, "I joined InterNations, Expat Mingles, and the Penang Decorative & Fine Arts Society. With so much going on I haven't had a day, or a night for that matter, alone since arriving. It's fabulous!"
Her advice to someone considering a similar move is simple, "Come and live here for six weeks, and if you like it, go for it. I did and I couldn't be happier."
More information can be found here: Where to Live as a Single Abroad
Editor's Note: Members of the media have permission to republish the article linked above once credit is given to InternationalLiving.com.
Further information, as well as interviews with expert authors for radio, TV or print, is available on request. Photos are also available.
For information about InternationalLiving.com content republishing, source material or to book an interview with one of our experts, contact PR Managing Editor, Marita Kelly, +001 667 312 3532, mkelly(at)internationalliving(dot)com
Twitter: @inliving
Facebook: https://www.facebook.com/International.Living/
About International Living
For 37 years, InternationalLiving.com has been the leading authority for anyone looking for global retirement or relocation opportunities. Through its monthly magazine and related e-letters, extensive website, podcasts, online bookstore, and events held around the world, InternationalLiving.com provides information and services to help its readers live better, travel farther, have more fun, save more money, and find better business opportunities when they expand their world beyond their own shores. InternationalLiving.com has more than 200 correspondents traveling the globe, investigating the best opportunities for travel, retirement, real estate, and investment.