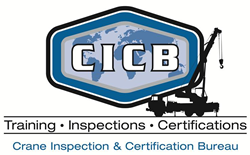 CICB, who for 50 years, has been educating and providing safety training to the crane & rigging industry, recently donated over $45,000 in crane operator/rigger training grants to the Specialized Carriers & Rigging Foundation
ORLANDO, Fla. and HOUSTON (PRWEB) February 14, 2018
With their collective missions of advocating, educating and providing support to the Crane and Rigging Industry in safe operations, Crane Inspection & Certification (CICB) has been a member and supporter of the Specialized Carriers & Rigging Association (SC&RA) for three decades. The association serves over 1300 members from 47 nations, involved in crane and rigging operations, manufacturing, industrial maintenance, machinery moving and erecting, and specialized transportation.
CICB, who for 50 years, has been educating and providing safety training to the crane & rigging industry, recently furthered its allegiance by donating over $45,000 in crane operator/rigger training grants to the Specialized Carriers & Rigging Foundation. The Foundation, an affiliate of the Specialized Carriers & Rigging Association, is a 501(C)3 nonprofit organization committed to education in the crane and rigging and heavy/haul transportation industries.
"We are extremely pleased to assist the SC&R Foundation in opening up doors to those wishing to enter the crane and rigging industry or for those needing certification to continue their careers" said Craig Epperson, CEO of CICB.
"With the aging of the 'baby-boomer' workforce and the tremendous amount of construction occurring from the Texas coast to the Florida panhandle, the current labor shortage has become a crisis" continued Epperson. "By partnering with the SC&R Foundation offering CICB Workforce Grants we are encouraging those who might otherwise not consider or even be aware of the opportunities available."
ABOUT CICB:
Headquartered in Orlando, FL since 1969 with a second training facility in Houston, TX, Crane Inspection & Certification Bureau (CICB) provides customized training for every type of lifting equipment and inspection services worldwide.
CICB's professionally trained instructors and subject matter experts are not only NCCCO Accredited Practical Examiners, but are NCCCO Certified as Mobile, Overhead & Articulating Crane Operators, Riggers, Signalpersons, Lift Directors and Crane Inspectors. CICB's instructors have been awarded the prestigious Top Trainer Award in 2017, 2016, 2014, 2013, 2012, 2011 and 2009.