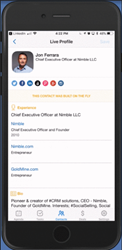 Mobile access to Nimble's contact enrichment, templated emails, and pipeline management features make prospecting and managing relationships as efficient and effective on the road as in the office
Santa Monica, Calif. (PRWEB) February 14, 2018
Nimble, the leading social sales and marketing CRM, today released Nimble Mobile CRM 3.0, a contact relationship and pipeline manager for mobile teams and professionals. Nimble unifies contacts from mobile, cloud-based and desktop records into one, comprehensive relationship manager that surfaces the history of conversations and provides social context. Available on iOS now and for Android users in the Spring, Nimble Mobile CRM 3.0 enables teams and professionals to easily follow up and follow through with opportunities across all deal stages using smaller, portable devices.
Nimble CEO Jon Ferrara, previously founder of GoldMine, the company that pioneered Contact Management and CRM, believes that B2B sales is and always have been based on relationships. He created Nimble Mobile because it's difficult to build business relationships when critical contacts and engagement history are buried in stacks of business cards, hastily added contacts, rescheduled calendar appointments, unanswered emails, and overcrowded social media streams.
People face an even bigger challenge when team contacts are locked in back-office sales, marketing, customer service, and accounting business application silos.
"The single most effective way to kill a deal is neglecting to understand people's needs and failing to deliver expedient, relevant responses," said Nimble CEO Jon Ferrara. "We designed Nimble Mobile as your personal CRM that you can take with you everywhere you work, so you're better prepared to manage personal business relationships at scale and take appropriate steps to evolve opportunities to help you grow."
NEW FEATURES: NIMBLE'S PERSONAL CRM FOR MOBILE OFFICE 365 AND G SUITE USERS
Nimble Mobile CRM 3.0 enables individuals and teams to manage relationships and deals more effectively while on-the-go. Specifically, it enables users to:

Bring a personal golden rolodex everywhere. Nimble Mobile users now have access to detailed dossiers including historical email and Twitter conversations, as well as social insights about the people they're meeting directly from email, calendar, contacts, social apps, and anywhere the iOS Share Menu is supported. The new mobile version eliminates the need to toggle between tabs or mobile apps. Contact data sources include more than 100+ cloud-based business apps and social platforms.
Scan business cards to create new CRM records. Nimble collects the name, title, company, email, address, and phone numbers, and builds enriched records in seconds.
Research new contacts on the fly. Using the iOS Share Menu within mobile apps or browser, users can tap on Nimble to discover people's social profiles, areas of influence, job title, company description and work experience.
Review email, calendar and social contact history. Sales intelligence is readily available because Nimble automatically synchronizes every email conversation, calendar activity and social interaction for each team member and every contact.
Send tracked messages and templated emails. Nimble Mobile users can save time using email templates with custom merge tags and pre-set attachments to email contacts, and enable message tracking to monitor engagement.
Manage multiple sales pipelines from the field. Users can manage sales across multiple pipelines to help you stay on top of projects, log notes using mobile voice commands, assign follow-up tasks and schedule reminders to follow through.
CUSTOMER AND PARTNER QUOTES
"I can honestly say that Nimble is my #1 tool for staying organized, effectively managing my contacts and interacting with them," said Jeff Sheehan, technology futurist and integrated marketing and social media consultant, Sheehan Marketing Strategies. "With Mobile CRM 3.0, Nimble's rich social insights and engagement histories are always with me, and important updates, including email follow-ups and new address book records, are synced directly to the CRM without painful data entry."
"Every small business owner and entrepreneur who wants to run a business more effectively from a mobile device can benefit from using Nimble Mobile CRM 3.0," said Brian Moran, founder and CEO, Brian Moran & Associates. "It's intuitive, simple-to-navigate sales intelligence and sales enablement tools make relationship building and follow-through a breeze."
"Nimble's data enrichment feature is a tremendous time saver that literally gives each of our team members an extra five-to-ten hours a week they'd otherwise spend on top-of-funnel activities," said Brad Banyas, Founder and CEO, OMI. "Mobile access to Nimble's contact enrichment, templated emails, and pipeline management features make prospecting and managing relationships as efficient and effective on the road as in the office."
AVAILABILITY AND PRICING
Nimble Mobile CRM 3.0 is available for all Nimble accounts at no additional cost. Add it on the iOS App Store or Google Play store. Subscribers to the Nimble Contact plan can upgrade to Nimble Business to access deal pipelines.
RESOURCES
*Learn More on the Nimble Blog
*For use in your posts – Screenshots
*Video overview - Link
ABOUT NIMBLE
Nimble builds award-winning contact management solutions for teams and individuals. Everyday, people use Nimble to successfully nurture their personal and business relationships across email, social networks and more than 100 cloud-based business applications. Ranked #1 in Overall Satisfaction by G2 Crowd, and #1 Small Business Sales and Marketing CRM by Fit Small Business, Nimble combines the strengths of traditional CRM, classic contact management, social media, sales intelligence and marketing automation into a powerful relationship management platform that delivers relationship insights everywhere you work.
Located in Santa Monica, CA, Nimble is in the heart of the Southern California Silicon Beach tech community and was Voted The Most Loved Santa Monica Tech Startup of 2017. For more information, visit http://www.nimble.com.