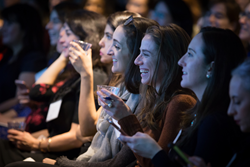 It's important to talk more openly about the issues we face in the media representing women: only when we face the truth can we really start working towards positive change.
NEW YORK (PRWEB) February 14, 2018
Ellevate Network, the leading network for professional women, will be honoring International Women's Day (March 8th) and Women's History Month this year by hosting chapter-wide screenings of the documentary Miss Representation.
Ellevate Network designs programming aimed at their commitment to providing a platform for women's voices to be heard, and to take unified action towards a more equal world. The chapter-wide screenings of Miss Representation are an acknowledgement of the power women hold in the world, and a need to change the dialogue around women in and their representation in the media.
Miss Representation exposes how the media's limiting portrayal of women and girls contributes to their underrepresentation in positions of power and influence. The film includes stories from teenage girls and provocative interviews with politicians, journalists, entertainers, activists, and academics like Lisa Ling, Nancy Pelosi, Condoleezza Rice, Katie Couric, Rachel Maddow, Rosario Dawson, Jackson Katz, Jean Kilbourne, and Gloria Steinem.
Ellevate Network will be holding screenings of the film in Atlanta, Austin, Boston, Boulder, Charleston, Charlotte, Chicago, Cincinnati, Dallas, Denver, Fairfield/ Westchester, Houston, Los Angeles, London, Long Island, Madison, Miami, Nashville, NC Triangle, Northern New Jersey, NYC, Orange County, Phoenix, Pittsburgh, Puerto Rico, San Diego, San Francisco, Seattle, Twin Cities, and Washington, DC.
Ellevate Network CEO Kristy Wallace said, "We're so thrilled to host 30 screenings of this outstanding documentary. We think it's important to talk more openly about the issues we face in the media representing women: only when we face the truth can we really start working towards positive change. We're honored to celebrate Women's History Month and International Women's Day by screening Miss Representation in our global chapters."
"For too long the media has sold a single story about women that focuses on our sexuality at the expense of our leadership." said Cristina Escobar, director of communications at The Representation Project. "This Women's History Month and International Women's Day, we are honored to partner with Ellevate Network to raise awareness of this problem and engage with their wide network to generate solutions."
The screenings of Miss Representation will be held in various chapters from March 8th to March 30th. They are made possible by support provided by Morningstar, Deutsche Bank, and Ipreo. You can register for your local screening here. To sign up for the Ellevate Network newsletter to be notified of Ellevate events happening in your area and to receive updates, click here. Interested in sponsoring a screening? Contact us at corporate(at)ellevatenetwork(dot)com.
About The Representation Project
Using film and media as catalysts for cultural transformation, The Representation Project inspires individuals and communities to challenge and overcome limiting stereotypes so that everyone, regardless of gender, race, class, age, sexual orientation, ability, religion, or circumstance, can fulfill their human potential. Jennifer Siebel Newsom founded The Representation Project (a 501c3) in 2011 in response to the overwhelming public demand for ongoing education and social action in support of her first film, Miss Representation. Since then, The Representation Project has released Newsom's second directorial film, The Mask You Live In, and become well known for creating popular campaigns such as #NotBuyingIt, #RepresentHer, and #AskHerMore. Learn more at therepresentationproject.org.
About Ellevate Network
Ellevate Network is a global network of professional women committed to elevating each other through education, inspiration, and opportunity. Our mission is to close the gender achievement gap in business by providing women with a community to lean on and learn from. Ellevate also works with companies committed to gender diversity and has a proven track record of changing business culture from the inside out.