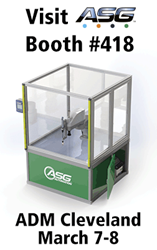 "Manufacturing is alive in Ohio," states Rick Wagner, Regional Sales Manager for ASG. "The ADM Cleveland show was a success last year, and I'm excited to return and meet face to face with other local manufacturers and discuss how ASG can improve their manufacturing processes."
CLEVELAND, OH (PRWEB) February 16, 2018
While a global company, ASG has had its roots in Cleveland for over 40 years. With Jergens, Inc. as its parent company, ASG sees the importance of keeping the local economy strong and consulting with other regional manufacturing professionals.
ADM Cleveland, a UBM must attend event for manufacturing professionals, takes place at the Huntington Convention Center in Cleveland March 7-8, 2018. ASG is located in the ATX Automation zone at Booth 418.
ASG is pleased to showcase the AX-20 fixed table system for automated solutions. This system features: the ASG X-PAQ system with Ethernet IP module, a TM Robotics SCARA 650 robot, 2 HMIs, and a newly developed process verification system. This system not only automates assembly but increases productivity, quality, and safety, while reducing costs.
Also in exhibit, the ASG Auto Feed screw feeding system with encoder arm. This innovative combo automatically presents the screws and ensures the screws are being installed at the correct torque and location. The easy-to-use Nav-P 4.0 system with HMI touchscreen can memorize up to 500 sequences and provides a visual aid to the operator.
Many of ASG's other products for assembly will be displayed, including the Fiam line of pneumatic tools and Hios torque control screwdrivers.
"Manufacturing is alive in Ohio," states Rick Wagner, Regional Sales Manager for ASG. "The ADM Cleveland show was a success last year, and I'm excited to return and meet face to face with other local manufacturers and discuss how ASG can improve their manufacturing processes."
Those interested in attending can register for free on the ADM Cleveland site at: admcleveland.com
ASG is ISO 9001:2008 certified and has been offering products and solutions for the assembly industry for over 40 years. A complete line of torque control products and precision fastening equipment is offered through ASG Assembly, Industrial, and Precision Fastening product groups, and includes electric and pneumatic torque control drivers, automated fastening systems, torque testers, work station accessories, precision screw presenters, automatic tape and label dispensers, the X-PAQ™ System, and more.
For more information, visit http://www.asg-jergens.com or follow the company on Facebook, LinkedIn, Twitter, and YouTube.