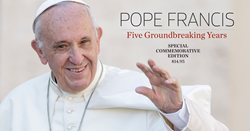 NEW YORK (PRWEB) February 20, 2018
America magazine today announced that it is now available in over 600 Barnes and Noble bookstores nationwide. Debuting with its Pope Francis Commemorative edition, readers can enjoy 100 pages of never before published stories and photos of Pope Francis in honor of his 5th anniversary as the 1st Jesuit pontiff.
First published in 1909, America magazine leads the conversation about faith and culture by producing excellent, unique, relevant and accessible content across multiple platforms. This special edition featuring Pope Francis is no exception. "We're excited to offer America magazine through Barnes & Noble bookstores around the country," said America Media's President Fr. Matt Malone. "It could not launch with a better edition than Pope Francis. This pope has revolutionized the papacy and has successfully propelled it forward to meet the needs of the 21st century world and Catholic Church," he added.
From the very beginning days of his service, intellects and celebrities alike offer their opinions on how this pope – a deeply faithful and compassionate man, is setting the world on fire. From Frs. Matt Malone and James Martin – to Stephen Colbert, Shawn Copeland and Natalia Imperatori-Lee – and many others, a side of the pope most people never see, comes through in remarkable stories and a visual pictorial unlike any other.
America magazine's Editor-at-Large, Fr. James Martin emphasized the significance of these stories. "Pope Francis is the most captivating spiritual figure of our time, and most likely, a saint before us," he said. "This is a pope who resonates with all people through his humor, humility and deep love for humanity. What comes through most in this special issue is his authenticity," he added.
This special, commemorative edition is now available at Barnes & Noble bookstores across the country, or directly through America magazine.
Contact: Linda Rigano
rigano(at)americamedia(dot)org
914.815.0396