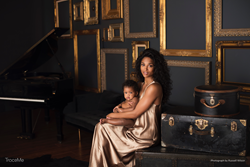 LOS ANGELES (PRWEB) February 15, 2018
In a move that enhances her connection and gives back to her fans, Grammy Award-winning singer/songwriter, producer, model, and actress Ciara became the second featured celebrity to launch on the TraceMe app today.
The Ciara fan community now has an exclusive VIP destination, with the star opening up her world and sharing intimate moments — from making music, collaborating with choreographers and dancers, to being a mom and pressing forward in business, philanthropy, and technology.
TraceMe, currently available on the App Store and coming soon for Android, is an uplifting platform that enables passionate fans to gain exclusive access to the worlds of their favorite celebrities, athletes, and entertainers. It combines original content, such as unseen behind the scenes videos, performance footage, and rehearsal sessions with fan community conversations and exclusive giveaways.
As a special treat to kick off the launch, the songstress unveiled baby daughter, Sienna Princess Wilson, to the world for the first time in an immersive video that was posted exclusively on TraceMe. The footage gives behind-the-scenes access to the private moments of a photoshoot of Ciara with her two children shot by surprise photographer Russell Wilson.
Ciara commented to her fans: "I'm so excited to be opening up my world to you on TraceMe. You guys know that I tend to be private with a lot of things, but with TraceMe I can have a genuine, unfiltered connection with you all. My motivation for this was to give back for all of your support throughout the years. We now have a special place where you can get to know more about me, and see all the fun things that go on with my music, my family, my fashion, and so much more."
As part of her TraceMe world, Ciara is launching Real Talk, where she goes "off the record" to discuss a wide range of topics in an open, live chat setting with her fans. Other Ciara content highlights include:

With Behind the Scenes, fans get a never-before-revealed multimedia window on all that goes into her performances, recordings, photoshoots, and special projects.
An upcoming dance and music series will feature unique dance content with appearances from star choreographer Jamaica Craft, Ciara's "twin soul of dance."
With Mama C, we go inside Ciara's world and see the fun projects she takes on — often alongside YouTube mom sensation Brooke Mahan. Fans also get to hear what's important to her as she raises a family and balances her career.
With Glam Time, fans can learn the inspirations behind C's iconic looks with hair guru Caesar Ramirez and makeup pro Yolanda Frederick.
TraceMe CEO Jason LeeKeenan said: "We could not be more thrilled to launch Ciara as our second celebrity on TraceMe. Her passion for her followers is right at the heart of our mission to connect fans with what they love, making her a perfect artist for TraceMe. 2018 is shaping up to be an incredible year for us, with more exciting announcements coming soon."
TraceMe is based in Seattle, WA, and raised a $9MM Series A funding round last summer, led by Madrona Venture Group, along with a number of prominent angel investors including Bezos Expeditions (the personal investment company of Jeff Bezos), Chad Hurley (co-founder of YouTube), Joe Tsai (co-founder of Alibaba), Mike Mahan (CEO of Dick Clark Productions), and Kenny Dichter (founder of Wheels Up).
Download TraceMe: https://link.traceme.com/ciara-launch
Press kit available on Dropbox
About Ciara
Ciara is a Grammy Award-winning singer/songwriter, producer, model and actress. Over her thirteen-year career, she has sold over 23 million records and 16 million singles worldwide, including chart-topping hits "Goodies," "Ride," "Oh," "1, 2 Step," "Body Party," and "I Bet." Known for her incredible visuals and stellar dance abilities, Ciara's videos have been viewed over 1.4 billion times accurately earning her the moniker of "Queen of Dance." Ciara continues to captivate with her social media prowess reaching over 50 million fans across her platforms and channels.
Ciara is not only known for her vocal talent and dance moves, but she is signed with IMG Models and Vogue previously named her the "new fashion icon." Most recently, she became Global Brand Ambassador for Revlon. As longtime muse for several high-fashion designers, Ciara has been the face of various campaigns and has graced the covers of numerous fashion and lifestyle magazines. She is a devoted wife and mother of two as well as a philanthropist who is dedicated to improving the lives of children and empowering women across the globe.
About TraceMe Inc.
TraceMe (http://www.traceme.com) is a mobile platform dedicated to bringing fans closer to what they love. Users can go behind the scenes like never before, diving into the worlds of Ciara and Russell Wilson, with other celebrities, athletes, and entertainers launching on the platform soon. TraceMe was founded in Seattle, WA, in 2017 by Super Bowl champion and Seahawks quarterback Russell Wilson. The company has raised $9MM from prominent backers such as Madrona Venture Group and Bezos Expeditions. Its mobile app is available for iPhone on the App Store and will launch in March on Google Play for Android devices.