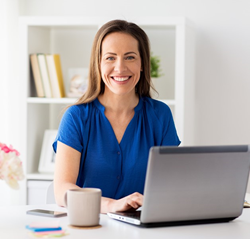 With the way things are going, two-factor authentication has become a requirement.
HOBOKEN, N.J. (PRWEB) February 15, 2018
A NYC area IT security consultant and MSP lists and explains five tips to strengthen home network security in a new article on the eMazzanti Technologies website.
In the informative article, the company states that additional security measures are needed to protect against cyber-threats that are increasing in frequency and sophistication. It then presents its top home network security recommendations.
The tips presented in the article include security practices not commonly used at home such as two-factor authentication, hard drive encryption and DNS network monitoring. More conventional recommendations like anti-virus and malware protection and operating system updates are also discussed.
"With the way things are going, two-factor authentication has become a requirement." stated Jennifer Mazzanti, CEO of eMazzanti Technologies. "To protect personal and financial information, you should use 2FA for your bank accounts, social media and system access on all your devices."
Below are a few excerpts from the article, "5 Tips to Secure Your Home Office Network."
"You may be a busy, travelling executive, telecommuter or multi-tasking parent. More than likely you have multiple devices that connect to your home Wi-Fi. With cyber-criminals getting more sophisticated and attacks more frequent, you may want to do more to secure your home office network."
1. Use 2FA for Bank Accounts, Social Media and System Access
"Cyber-criminals now use a variety of methods to guess or steal passwords. Simply put, a password-protected account is not protected enough…"
"2FA requires the user to supply two out of three possible types of credentials to gain access to an account. In addition to user name and password, it creates an additional hurdle for cyber-criminals to clear. Thus, your account becomes a much less attractive target."
2. Monitor Network Traffic
"If you are concerned about how others in your household use the network or the websites they access, you can monitor your network traffic with a cloud security service. This type of service protects every device connected to your network—Desktops, smartphones, tablets, game consoles, DVRs, TVs, everything."
More Home Office Network Security Tips >>
IT Security Resources to Secure Your Home Office Network
Busy telecommuters and entrepreneurs working from home often engage IT security professionals to manage home networks and stay on top of the latest technology trends and threats. In any case, home network users should consult with security professionals to develop an IT security plan before implementing it.
When it comes to protecting home networks and sensitive information, experience and advanced technologies yield superior results. Residents that partner with IT security professionals, such as eMazzanti Technologies, for effective home network security solutions enjoy increased security, less downtime, and greater peace of mind.
Related resource information:
The Importance of Cybersecurity for Law Firms
The Spectrum of Hacking, Explained
About eMazzanti Technologies
eMazzanti's team of trained, certified IT experts rapidly deliver retail and payment technology, digital marketing services, cloud and mobile solutions, multi-site implementations, 24×7 outsourced network management, remote monitoring and support to increase productivity, data security and revenue growth for clients ranging from law firms to high-end global retailers.
eMazzanti has made the Inc. 5000 list eight years running, is a 2015, 2013 and 2012 Microsoft Partner of the Year, 2016 NJ Business of the Year, 5X WatchGuard Partner of the Year and one of the TOP 200 U.S. Microsoft Partners! Contact: 1-866-362-9926, info(at)emazzanti(dot)net or http://www.emazzanti.net Twitter: @emazzanti Facebook: Facebook.com/emazzantitechnologies.