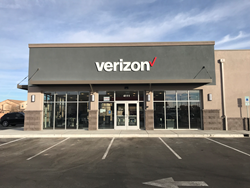 Albuquerque is a new adventure for us.
ALBUQUERQUE, N.M. (PRWEB) February 17, 2018
Cellular Sales, the largest independent Verizon Wireless retailer by volume, has opened its first store in Albuquerque and fourth location in New Mexico.
The store, located at 4111 Coors Boulevard NW, just next to Starbucks. Cellular Sales opened its doors on Dec. 22.
"Albuquerque is a new adventure for us," said Cellular Sales Regional Director Aaron Clark. "We have a store in nearby Rio Rancho, and that store's success gave us the confidence to expand in this area."
Named to the Inc. 5000 nine times, Cellular Sales has grown tremendously since its inception. Placing an emphasis on customer service, Cellular Sales has grown from a single store in Knoxville, Tenn., to a national retailer with 670 stores across 39 states.
"Putting the customer first has served us well as a business model" said Regional Director Seth Baldwin. "It's what got us to where we are today, and providing exemplary customer service will continue to be what guides us, in Albuquerque and elsewhere."
Cellular Sales seeks to hire motivated sales professionals with a passion for customer service to work at its Albuquerque location. Those interested in applying for jobs at Cellular Sales in Albuquerque may contact Cellular Sales Recruiter Ed Merget at 480-435-5149 or ed.merget(at)cellularsales(dot)com.
About Cellular Sales
Headquartered in Knoxville, Tenn., Cellular Sales was founded in 1993 and has been named by Inc. Magazine as one of the nation's fastest-growing privately owned retailers for nine of the past 10 years. The company currently employs 7,200 people and operates 670 stores nationwide. Job seekers may visit jobs.cellularsales.com. For more information on the company, visit cellularsales.com.
###