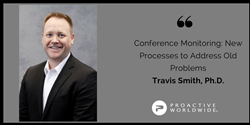 CI services to provide our clients with intelligent research and insights from these conferences are ripe for growth
SCHAUMBURG, Ill. (PRWEB) February 20, 2018
Dr. Travis Smith, Associate Vice-President and co-leader of Proactive Worldwide's Healthcare and Life Sciences practice, will be traveling to Lisbon, Portugal later this month to share his expertise in conference-related medical intelligence gathering and reporting during Europe's Pharma Competitive Intelligence Conference and Exhibition, to be held February 27-28, 2018.
International competitive intelligence firm Proactive Worldwide (PWW) has served as the eyes and ears of its pharma and life sciences clients for over twenty years, having completed more than 40 conference coverage engagements worldwide. As pioneers in the conference coverage discipline, PWW maintains that understanding how to manage and control intelligence gathering within the medical conference milieu is particularly important, as these venues are ideal environments for capturing the newest data in the pharmaceutical and device industry, offering unique opportunities to engage in expert-to-expert discussions with those on the cutting edge of research and development.
Dr. Smith is among PWW's most active leaders in developing pressure-tested methods of efficiently providing broad coverage and in-depth insights that quickly generate robust reports for its clients. During the upcoming session in Lisbon, Smith said he is pleased to share some of PWW's best practices for pre-meeting planning, on-site coordination, post-conference reporting and the emerging importance of leveraging social media as part a complete medical conference coverage strategy.
Explaining the growing focus on this type of research, Smith added, "While demand for scientific engagement remains constant, attendance costs are rising from a company overhead, time-and-expense perspective. CI services to provide our clients with intelligent research and insights from these conferences are ripe for growth, and our goal is to help CI professionals learn and adopt best-practice methodologies in this area."
About Proactive Worldwide
Proactive Worldwide, Inc. is a global research and strategic intelligence consulting firm that provides evidence-based, constructive information within the competitive intelligence, market intelligence, and customer insights domains. Anchored by primary source research for over 22 years, Proactive's multilingual professionals assist our clients with offerings that include but are not limited to competitive research services, competitor assessments, market entry and defense strategies, war gaming simulations and scenario planning events, and customer experience and user experience studies. To learn more, visit http://www.proactiveworldwide.com