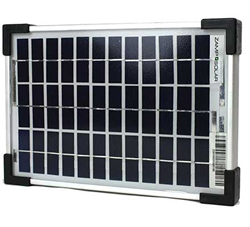 (PRWEB) February 16, 2018
Just last year, Bird-X announced their launch of the Solar Yard Gard, a solar-powered version of the best-selling ultrasonic Yard Gard product. Many of Bird-X's larger sonic devices require an outlet for power, but they also have the ability to be powered by solar panels connected to 12V deep cycle marine batteries. Solar panels are a great one-time investment that will keep Bird-X electronic products on, while keeping the power supply off.
To educate consumers about this, Bird-X has created an informative page dedicated to how solar power works with their products, which products are compatible, and what size solar panel is necessary for each device. Bird-X products that are compatible with solar panels can be found here.
In remote areas or places without constant electricity, bird and pest control can be difficult and usually must be handled manually, which takes time and labor, both valuable resources. Bird-X offers low maintenance products with high efficacy rates to ensure time and labor is cut down significantly.
Bird-X, Inc. has spent over 50 years protecting public areas from over 60 bird-spread transmissible diseases. The leading international brand of humane bird control solutions, this Chicago-based company manufactures a complete line of unique bird control products, protecting the health of humans, wildlife, and the environment by deterring birds from unwanted areas without harming them.
For information on any of Bird-X's humane pest control products, please call customer service at (800) 662-5021.