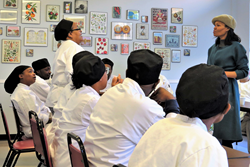 "Mastering basic skills is essential for success in life," Ammon Foundation Executive Director, Mariel Hufnagel
PATERSON, N.J. (PRWEB) February 16, 2018
Eva's Village is partnering with The Ammon Foundation through their Core Value Partnership Initiative to bring educational support to the men and women in Eva's programs. The Ammon Foundation's primary focus is on supporting recovery with education through scholarships and life skills workshops; however, they believe that education can empower others, like Eva's culinary students who face life challenges and obstacles to education.
With plans to roll out the workshops across Eva's Village programs over the coming year, the Ammon Foundation started by adapting their Empowerment Workshop Series to complement Eva's culinary school curriculum. The Foundation has also awarded a full scholarship to one of Eva's current culinary students. "Mastering basic skills is essential for success in life," noted the Foundation's Executive Director, Mariel Hufnagel. "90 percent of Eva's culinary program is not about cooking," agreed Chef James Cwynar, Director of The Culinary School at Eva's Village, "It is about showing up, learning how to work as a team and how to conduct yourself professionally in a kitchen."
After just a few sessions, the school's staff noticed a boost in students' self-esteem and bonding. "Even outsiders have noticed," noted Daniela Zangara, the school's vocational coordinator. "The workshops not only give students immediate takeaways—vital skills they may have been missing—they help students to develop a mutual support network and we can see them gaining confidence and taking pride in their work," Ms. Zangara observed.
Eva's Culinary School attracts students from all walks of life, from recent high school graduates to older students looking to make a fresh start. All are seeking hands-on training and skills to build a career in the food service industry. Each one faces the stress of balancing family responsibilities with the pressures of performing as a student and finding a job. Some are juggling work, childcare and school; others may be working to maintain their own recovery. "Pathways to recovery may be different, but everyone needs to know how to budget, how to manage time, how to prioritize self-care, and how to build healthy relationships in order to lead a full and meaningful life," explained Mrs. Hufnagel.
The first workshop addressed Self Care, exploring ways to deal with and prevent fatigue, anger, conflict, and burnout. "Self-care is a scaffold for success—it builds confidence and supports all the other skills needed to lead a full and meaningful life," noted Christine Love, Director of Workshop Programs for the Foundation. Other topics include Study Skills, Budgeting, Time Management, and Resume Writing/Interviewing Skills.
Beginning next month, the Empowerment Workshop series will also be offered to participants at Eva's Recovery Community Center. The goal is to incorporate the workshops into multiple programs across Eva's Village over the coming year to engage individuals who are in various stages of recovery.
More about The Ammon Foundation:
The Ammon Foundation launched in October 2016 as the philanthropic endeavor of Ammon Labs. The Foundation's mission is to provide strategic support to remove barriers for those in addiction recovery seeking to continue their education. The Ammon Foundation envisions a world where all of those who have suffered from addiction are able to access, maintain and sustain long-term recovery. The Foundation's Core Value Partnership Initiative ensures the foundation works with organizations, health care providers, educational institutions, foundations, corporations, high net worth individuals, and others to strategically support individuals in recovery. They believe that by creating intentional, mutually beneficial and long-term partnerships they will increase their impact.
More about The Culinary School at Eva's Village:
Eva's Culinary School is a private vocational school certified by the Departments of Education and Labor & Workforce Development, whose six-month program trains and places students in culinary careers. Students work their way through five modules, guided by Professional Chef Instructors in a state-of-the-art training kitchen. Students are placed in industry internships to complete the final module. The school reports a 93 percent job placement rate. Throughout the semester, students engage in work readiness exercises focusing on resume building, job retention and interviewing skills.
More about Eva's Village:
Founded by Msgr. Vincent E. Puma in 1982, Eva's Kitchen began by serving 30 meals a day to feed the hungry in Paterson. In response to the related issues of poverty, addiction, mental illness and homelessness, programs and services grew out of the original soup kitchen to address the root causes as well as the effects of homelessness and poverty. Today, Eva's Village is a non-profit, comprehensive, social service organization, offering a range of integrated programs to help those in need move toward stability and independence. The programs address needs in the Paterson and Passaic County communities for food and shelter, recovery and medical services, and education and job training.