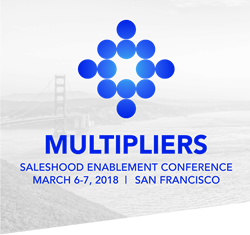 MULTIPLIERS is the conference created for enablement professionals to multiply results for their companies and careers. Elay Cohen, CEO SalesHood
SAN FRANCISCO (PRWEB) February 16, 2018
SalesHood, the leading sales enablement platform, is hosting its 4th annual conference, MULTIPLIERS, in San Francisco on March 6th and 7th, 2018. The conference is geared towards enablement professionals who want to explore ways to turn people, processes, and programs into revenue multipliers. The focus on workshops and collaboration will enable conference attendees to roll up their sleeves and learn from the most successful enablement MULTIPLIERS in the industry.
"We're at the beginning of a movement where companies are embracing enablement as a go-to-market revenue multiplier," says Elay Cohen, CEO, SalesHood and former Senior Vice President, Sales Productivity from Salesforce. "MULTIPLIERS is the conference created for enablement professionals to multiply results for their companies and careers."
The conference highlights keynotes from some of the most successful and forward-thinking sales and marketing leaders from Alteryx, Demandbase, FinancialForce, RingCentral, Sage Intacct, SHI, UT Dallas, and Yext
Speakers include:
AJ Gandhi, RingCentral
Amy Pence, Alteryx
Bruce Campbell, Sage Intacct
Brian McGrath, SHI
Dr. Howard Dover, UT Dallas
Elay Cohen, SalesHood
Jake Hofwegen, Yext
James Simpson, RingCentral
Jim Steele, Yext
Kelly Frey, SalesHood
Mark Siciliano, Demandbase
Quyen "Q" Le, FinancialForce
Sheevaun Thatcher, RingCentral
Awards will be given out at the MULTIPLIERS conference to celebrate and recognize outstanding enablement achievements. To recognize contributions over a career, the "Lifetime Achievement in the Enablement Profession" award will be honored.
Here is the list of 2017 Enablement Professional Achievement Awards we'll be recognizing at MULTIPLIERS:
1. Enablement Leader
2. Corporate Pitch
3. Product Playbook
4. Sales Culture
5. Onboarding Program
6. Most Engaged Company
7. Biggest Revenue Impact
8. Most Viewed Content
9. Most Innovative Use Case
10. Highest NPS Program Score
Sign up for a 2 day pass at $499 or a one day pass at $399.
Conference Program & Agenda
https://saleshood.com/events/multipliers-conference-2018/
2017 Conference Highlights Video
https://youtu.be/_IFAVU_WHBs
About SalesHood
We deliver industry leading customer value and revenue growth by helping companies increase sales attainment with our enablement platform and expert community. SalesHood elevates team productivity making coaching and content distribution more efficient. SalesHood brings teams together to share, learn, and celebrate wins efficiently through video storytelling and peer learning. Engagement is high and proven to impact outcomes. Revenue results are fast. SalesHood's customers are doubling win rates, increasing sales attainment, and improving time to ramp, Join the SalesHood Community today. For more information about SalesHood and a free trial, visit us at http://www.saleshood.com.