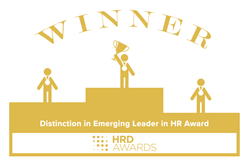 LONDON (PRWEB) February 16, 2018
Tobi Collett, Human Resources Business Partner for EMEA and Global Accounts at Allegis Global Solutions (AGS), won the "Emerging Leader in HR" award at the prestigious 8th Annual HRD Awards on February 6, 2018 in Birmingham, U.K.
"Tobi has not only excelled, but went above and beyond in her attitude towards development," said AGS Executive Director of Human Resources Sara Babin. "She is a proven leader who demonstrates strategic focus, business partnering and superb emotional intelligence. This award is well-deserved."
Collett joined AGS three and half years ago after spending 15 years in human resources. She is responsible for all HR initiatives in AGS' EMEA region, including regulatory compliance, HR analytics, employee relations matters, and workforce engagement.
In addition to leading HR in EMEA, Collett also heads the firm's Transfer of Undertakings Protection of Employment Regulations (TUPE) efforts. As the TUPE lead, she is currently responsible for protecting the organization and the people affected as it is in the process of transferring 2,300 employees after a large client acquisition in 2016. So far in her tenure AGS has not had any TUPE claims and has a high success rate of employees staying with AGS due to Collett's management.
Prior to joining AGS, Collett spent 11 years at Royal Mail where she led all employment legislation and diversity engagement and development for the organization of more than 180,000 employees. Notably, she set up a disability help-line which saved Royal Mail £350K in litigation risk within its first year of operation.
The 2018 HR Distinction Awards celebrates the most creative and engaging company projects, as well as inspirational individuals who are rising stars in the industry. Details about the HRD Awards and the full list of winners are available at https://www.hrdistinctionawards.com/.
For more information on Allegis Global Solutions and its industry-leading services, visit http://www.allegisglobalsolutions.com and follow @AllegisGlobal on Twitter.
###
About Allegis Global Solutions
Allegis Global Solutions (AGS), an Allegis Group company, is a leading provider of global talent acquisition and workforce solutions. We support clients in more than 60 countries with world-class recruitment process outsourcing (RPO), managed service provider (MSP), and services procurement (SOW) solutions.
Our core strength is providing our clients with universal access to talent by engineering complex, next generation workforce capability. Whether our customers require our services regionally or globally, we have the experience, state-of-the-art technology and sustained investments in innovation to ensure we deliver workforce solutions that improve organizational efficiencies, save costs and promote growth.
For more information, visit http://www.allegisglobalsolutions.com or follow on Twitter @AllegisGlobal.
Media Contact
Gautier Lemyze-Young, Allegis Global Solutions, 1.410.207.9212, glemyzey(at)allegisglobalsolutions.com