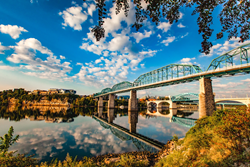 In 2018, there are five new attraction experiences and all new scavenger hunts!
CHATTANOOGA, Tenn. (PRWEB) February 18, 2018
During Chattanooga's Spring Break Safari, the city is transformed into a place where kids rule and adventure is everywhere. Kids can't resist exploring the world with lots of hands-on activities designed just for them. In 2018, there are five new attraction experiences and all new scavenger hunts! The participating attractions are offering special experiences that can only be done Friday, March 9-Sunday, April 8, 2018.
While on Spring Break Safari in Chattanooga, kids can be a Musician (NEW!) and learn new guitar skills; Shutterbug Adventurer (NEW!) and develop photography skills; World Traveler (NEW!) and explore 50+ countries; Backyard Scientist(NEW!) and meet native and exotic species; Time Traveler (NEW!) while cruising down the mighty Tennessee River; Sword Fighter on a quest to see the Queen; Zookeeper and encounter some of nature's wildest creatures; RockQuest Adventurer and search for geological wonders; Conductor aboard a rumbling locomotive; Cave Explorer and venture deep into a cave; or a Rock Climber and scale walls and boulders.
Families can discover more about Chattanooga on an exciting Scavenger Hunt with all NEW questions in 2018! Explore the city and attractions and complete each Scavenger Hunt at your own pace. There are hunts inside and outside of each attraction as well as four downtown districts. Solve the clues together and if you get stuck, you can ask someone at the attraction or check out the answers at the end of the guide. Kids will receive special prizes when they show images of the found items to employees at the attractions.
Be sure to get a free Spring Break Safari Guide that can be downloaded online (available soon) or picked up at any of the participating Spring Break Safari attractions and the Chattanooga Visitors Center located at 215 Broad Street.
Get the full scoop on planning a Chattanooga Spring Break Safari at http://www.chattanoogafun.com/spring.