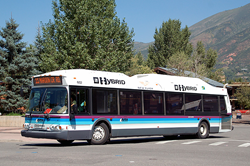 Uniformed security personnel can often be more effective in terms of discouraging would-be bad-actors before they misbehave than a traditional bouncer.
DENVER (PRWEB) February 28, 2018
A February 8 article on PostIndependent reports on planned changes to transit security in response to the growing incidence of assaults and other problems on RFTA (Roaring Fork Transportation Authority) buses, servicing Aspen and other cities. Specifically, the article notes that the bus line will add additional security personnel and that it is also contemplating banning alcohol consumption. (It is currently allowed as long as cans and bottles have not been opened prior to entering a bus.) Denver-based Spear Security Inc. says that the kinds of problems motivating the adjustments by the RFTA are typical of the threats that all kinds of for-profit and not-for-profit organizations have to deal with on an almost daily basis.
The security firm says that all businesses face differing security challenges, but ones that are open to the public may face the most complex issues. Security guards on busses or in public buildings can, for example, enforce rules against public drinking or discourage guests from loud cursing or other unruly behavior, but the fact that their worksite is constantly in motion may present very particular safety challenges. Bars and restaurants, on the other hand, may not be moving, but they also may not have as many clear red lines for guests. Spear Security Inc. notes that, obviously, businesses that actually sell alcohol to be consumed on the premises are open to more potentially dangerous behavioral issues such as brawling, and must also meet state and local regulations regarding such matters as not providing service to minors or inebriated individuals. It adds that uniformed security personnel can often be more effective in terms of discouraging would-be bad-actors before they misbehave than a traditional bouncer, who often may be performing other jobs and could appear to be simply another employee of the establishment.
Spear Security Inc. adds that entertainment businesses catering to large crowds, which may be adjacent to venues that serve liquor, also have to carefully consider their security situation when it comes to dealing with the public. For example, movie theaters may have to deal with particularly large crowds during the opening weekend of a major blockbuster, and there's always the chance of misbehavior when a mostly young crowd may contain drunken individuals. The firms notes that, when the imposing presence of personnel in uniform fails to discourage bad behavior by itself, experienced guards are often able to spot potentially unruly individuals early and deescalate a situation well before serious trouble starts.
Members of the public or business community who want to learn more about Spear Security Inc. can call 303-298-8373. The firm can also be found at http://www.SpearSecurityDenver.com.