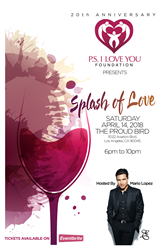 "Splash of Love brings together business owners, celebrities, and other adults that support social emotional learning programs such as Love4Life, that give our youth a better outlook on life strengthen our community for a better and successful future."
LOS ANGELES (PRWEB) February 19, 2018
Well-renowned television personality, Mario Lopez, will host Splash of Love, an annual gala and fundraiser event to benefit the P.S. I Love You Foundation's Love4Life learning program. The event is set to take place on Saturday, April 14, 2018, from 6 P.M. to 10 P.M. and will be held at the newly renovated Proud Bird Food Bazaar and Events Center in the Grand Ballroom at 11022 Aviation Boulevard, Los Angeles, California 90045.
Guests can expect to enjoy an evening of live entertainment, heavily passed hors-d'oeuvres, whiskey pours, and premium wine tastings from fan-favorite distilleries and boutique wineries, and will have opportunities to network among local business and restaurant owners, bartenders, celebrities, and leaders in the youth healthcare and well-being industry. A silent auction will take place to raise support and awareness for Love4Life, a social and emotional life-skill learning program that works with students to increase confidence, self-acceptance, and public speaking skills.
Founded by Patricia Scelza-Jones in 1998, the P.S. I Love You Foundation will celebrate their 20 years of mentorship and support programs in schools throughout Southern California. "It's important to teach and provide opportunities for our youth," says Patricia. "Through programs such as Love4Life, we're able to give our youth a better outlook on life that will in-turn strengthen our community and gives us all a better and successful future."
Tickets are available for purchase at Eventbrite for $100 for general admission and $150 for VIP admission. The VIP room includes premium whiskey and wine pouring paired with imported chocolates and cheeses, with a special guest appearance from Mario Lopez. Early entrance check-in begins at 5:30 P.M. Guests must be 21+ to attend.
About P.S. I Love You Foundation
Established in 1998 by founder, Patricia Scelza-Jones, the P.S. I Love You Foundation is a non-profit grassroots organization dedicated to nurturing at-risk youth in Southern California. Their mission is to provide social and emotional educational programs to mentor and empower children to think, act and live with healthy confidence and decision-making skills to improve their outlook and quality of life. P.S. I Love You currently reaches 700-1200 children each year and operates strictly from volunteer work. To raise money for their education and community outreach programs, P.S. I Love You hosts several events throughout the year. To learn more or to find out how you can get involved visit http://www.psiloveyoufoundation.org.
About Colure and Diamond
Colure and Diamond is a members only, business to business firm that assist small to large businesses with exclusive sales, marketing, and distribution strategies in the areas of electronics, clothing goods and accessories, retail, restaurants, wine, and spirits, auto manufacturers, and other lifestyle brands. Its B2B partnerships are carefully curated to maintain its reputation as a premier lux-branding firm. Colure and Diamond is located in Southern California. http://www.colureanddiamond.com