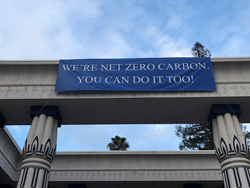 Julie Scott, Executive Director of the museum remarked, "For years, experts told us it was not possible, with our historic buildings, to make Rosicrucian Park Net Zero Carbon. Together with Comfort International and Mynt Systems - we did it!"
SAN JOSE, Calif. (PRWEB) February 21, 2018
The Rosicrucian Egyptian Museum in San Jose, CA had an older HVAC system that other HVAC companies had recommended replacing in full. Comfort International, Inc. (CI) performed their detailed Efficient Energy Management Systems study which was able to find creative ways to repair the aging system and modify it to operate at far lower energy levels than any of the proposed complete replacement alternatives. CI implmented their advanced HVAC optimization & control solutions so that the facility uses only a fraction of the energy previously used. Julie Scott, Executive Director of the museum remarked, "For years, experts told us it was not possible, with our historic buildings, to make Rosicrucian Park Net Zero Carbon. Together with Comfort International http://www.comfortintl.com/home.html and Mynt Systems - we did it!"
The project was performed without disrupting their operations as popular public museum. The costs to be Net Zero were substantially less than the several HVAC replacement proposals. The energy savings were guaranteed and measured at the utility meter.
Comfort International is able to engineer solutions with very short returns on investment (ROI) through a turnkey process. Most projects achieve a 50% return on investment. Energy savings of 40% or more are standard and can be guaranteed at the utility meter. In achieving such results, Mr., Pong credits his company's comprehensive efficient energy management systems (EEMS) study process. He adds: "When energy efficiency is properly engineered on a whole building approach results like Rosicrucian Egyptian Museum are typical, enabling commercial clients to achieve a Net Zero Carbon building cost effectively."
About Comfort International Inc. http://www.comfortintl.com/home.html
Comfort International is exclusively focused on achieving peak efficiencies with existing buildings. We identify unique and effective solutions that permanently decrease recurring operational cost directly related to heating, ventilation, air conditioning, and lighting in your workplace environment. CI will increase workplace comfort while positively impacting your bottom-line as well as the environment. Comfort International is a green-focused energy management and HVAC maintenance firm located in San Jose, California,
About Rosicrucian Egyptian Museum http://www.egyptianmuseum.org/
The Rosicrucian Egyptian Museum is an educational institution that uses trans-disciplinary approaches to increasing knowledge about the past, present, and future, especially related to the diversity and relationships in nature and among cultures.
About Mynt Systems http://myntsystems.com/
Mynt was conceived from the idea that all of this could be brought under one roof, a one-stop shop for energy efficiency that takes all the guesswork and the footwork out of the equation for you. We wanted to help you; the property owner, the property manager or business owner get the energy efficiency in the simplest and quickest way with the least amount of headache and risk. We found a way to combine the assessment, engineering, design and implementation into one package that is easy to understand, financially appealing and ecologically responsible.
2570 North First Street, 2nd Floor, San Jose, CA 95131 . 888-518-1118 P . 888-600-3880 F . http://www.comfortintl.com