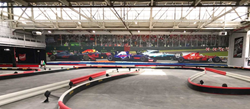 Conveniently located in Downsview Park in mid-town Toronto
Irvine, CA (PRWEB) February 19, 2018
K1 Speed, the United States' indoor electric karting leader and innovator since 2003, is thrilled to introduce its newest location - K1 Speed, Toronto. This location marks the premier indoor karting company's first location into Canada's indoor karting scene and will be the beginning of many locations to open up across the country over the coming years.
Located in beautiful Downsview Park in mid-town Toronto, the 47,000-sq. ft. facility inside the Downsview Park Sports Centre will be home to the finest indoor karting experience not only in the Greater Toronto Area, but in all of Canada.
Racers will drive fully-electric go-karts that offer the latest in karting technology including a "Push to Pass" boost feature, without the noise, pollution, or engine lag that gas-powered go-karts deliver. In addition to the adult karts, the facility will also house the newest junior karts that K1 Speed has to offer. This kart is perfect for young children and features an all-new integrated roll bar, plus a redesigned body and front bumper among other improvements.
The road course-inspired track is professionally designed and unique to any other track that K1 Speed offers, all while being maintained to the highest level to ensure the greatest racing experience. The track will also feature the latest in safety technology, incorporating a PROTEX barrier safety system that efficiently absorbs impacts, protecting both the driver and the kart.
Those new to the K1 Speed experience will be delighted upon entrance to the state-of-the-art venue. Racers and spectators alike will be treated to museum-quality motorsport memorabilia on display, nightclub-style lighting, leather couches, an arcade with billiard tables, and a sophisticated Paddock Lounge where guests can enjoy complete dining services with a fully licensed bar after racing. The venue will also feature two private meeting rooms fully equipped with A/V functionality - perfect for company functions, corporate events, or special occasions. K1 Speed Toronto will be able to accommodate groups from 10 to 200 guests. Only minutes away from subway transit, and offering plenty of free parking, getting yourself to K1 Speed Toronto will be effortless.