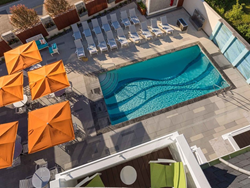 "While our premises are designed to evoke the vibes of an old-time, beachside hidden gem, staying ahead of our guests' evolving needs remains a priority. KEYPR's features will allow us to modernize how we do hospitality, without taking away from our laid back, award-winning approach to elegance."
LOS ANGELES (PRWEB) February 20, 2018
KEYPR®, the leading cloud-based technology platform for the hospitality industry providing an integrated end-to-end experience for guests and staff through embedded and mobile devices, announced today that The Break Hotel will be implementing its expansive hospitality platform, marking KEYPR's first property in Rhode Island.
"While our premises are designed to evoke the vibes of an old-time, beachside hidden gem, staying ahead of our guests' evolving needs remains a priority," said the hotel's GM Michael Mesolella. "KEYPR's features will allow us to modernize how we do hospitality, without taking away from our laid back, award-winning approach to elegance."
Located near Narragansett and Scarborough beaches, The Break has earned its ranking on Condé Nast Traveler's Readers' Choice for Top Hotels in New England by providing guests with friendly service, immaculately designed rooms, and spectacular views. Through the KEYPR platform, guests and staff of The Break will have access to a custom mobile app, in-room tablets, and KEYPR's Guest Experience Management System (GEMS®) which combined, will dramatically improve operational efficiency, drive new revenue opportunities, and meet the expectations of today's highly-connected traveler.
"We are thrilled to begin our relationship with The Break Hotel, a beautiful property in Rhode Island and a wonderful addition to the stable of boutique hotels using the KEYPR platform, the broadest in the industry," said KEYPR CEO Robert Stevenson. "Guests will revel in having full mobile access and our in-room tablets to assist in optimizing a perfect beach getaway, whether it be connecting to local culture or simply ordering room service."
The initial rollout of the KEYPR platform includes deploying in-room tablets and GEMS, with mobile check-in and keyless entry features to be deployed later this year.
About KEYPR
KEYPR® is a cloud-based guest experience and management platform for hotels, casinos and residential properties. The platform delivers a friction-free personalized guest experience, while creating new operational efficiencies and driving additional revenue opportunities for property owners. Guests can access a directory of services, including dining, entertainment, third-party content and more through an in-room tablet and custom mobile app. The app also allows guests to bypass the front desk via keyless entry. Additionally, owners and managers gain valuable insight through the integrated dashboard (GEMS®) and intuitive tools that provide visibility into guest needs before, during and after their stay -- all while easily monitoring operational KPIs across multiple properties. For further information, visit: http://www.keypr.com.