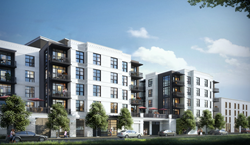 "Our greatest amenity is the entire city of Charleston."
CHARLESTON, SC (PRWEB) February 21, 2018
The first purpose-built condominium project on Peninsular Charleston in years has launched sales to the public. Borrowing from national experience in community-building, its developers are keen to attract buyers eager to immerse themselves in this world-class city.
The Gadsden - http://www.thegadsden.com -- is the latest project by East West Partners, and will bring 76 luxury 1-, 2- and 3-bedroom condominiums to the vibrant Gadsdenboro neighborhood. Prices range from the low $400,000s to $1.3 million. The same company developed the successful Tides IV and One Vendue.
Located on the South edge of the verdant Gadsdenboro Park and playground, The Gadsden is walkable to cultural institutions like the South Carolina Aquarium and future International African American Museum, as well as to the city's numerous shops and restaurants.
Each residence will be imbued with a sophisticated, Southern aesthetic curated by the celebrated Cortney Bishop Design. Conceived for a modern, community-minded owner, The Gadsden will feature a variety of attractive amenities that foster sociability and ease:
o A game-changing rooftop housing an enclosed owners club (The 45 Club) and luxurious outdoor features including fire pits, a social pool, sunning deck and outdoor kitchens.
o An onsite concierge and property manager.
o A pet washing station.
o An indoor, state-of-art fitness facility.
"Really, our greatest amenity is the entire city of Charleston," said Miller Harper, East West's partner-in-charge in South Carolina. "Beautiful Gadsdenboro Park serves as our back yard, and we are surrounded by all the advantages that come from being in this #1 destination city. Our prospects are excited to immerse themselves in this community."
Buyers have already demonstrated strong interest in The Gadsden, as 32 contracts have been sold ahead of its public launch date. "We are seeing strong demand among empty nesters and people who seek a second home in this urban setting," said Harper.
The Gadsden is the latest local development by Charleston-based East West Partners, which brought to market Tides IV, The Tides and One Vendue.
###
About East West Partners:
For more than 30 years, East West Partners has built, sold, managed and supported high quality real estate development. Dedicated to innovation, the company encourages employees to embrace an entrepreneurial spirit, to give back to the communities in which they invest, and to vigorously protect the natural environment.