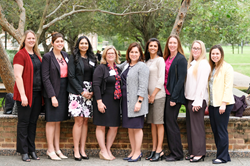 HERWorld is a great way for women to connect with the energy industry and also highlight Shell's ongoing commitment in supporting women and minority-owned businesses, " says Ana Moreno Kopf with Shell
HOUSTON (PRWEB) February 20, 2018
Pink Petro, the global community working to end the gender gap in energy, is marking International Women's Day with the third annual HERWorld Energy Forum, featuring Dr. Jen Welter, the first female coach of the NFL, and the first-ever GRIT Awards, honoring energy's unsung heroes.
"The theme of GRIT is one we should all embrace. My career has been defined by periods of growth, resilience, innovation and transition, and I look forward to sharing my story with everyone in the hopes that it reminds all the women, and men, in energy that anything is possible — if you're willing to work for it," says Dr. Jen Welter.
A portion of the proceeds will benefit Lean In Energy, the mentoring organization created with the goal of creating stronger female leaders in energy around the world.
The forum's global presenting sponsors are KPMG and Shell. The experience will take place March 8, 2018, with live events in Houston and Denver and streaming available online around the world. More than 10,000 energy leaders — both men and women — are expected to attend. This year's participants will explore the New Energy Playbook, built on GRIT: growth, resilience, innovation and transition.
"Shell is pleased to be a founding supporter of Pink Petro and HERWorld.  Innovative events like HERWorld are a great way for women to connect with the energy industry and also highlight Shell's ongoing commitment in supporting women and minority-owned businesses, " says Ana Moreno Kopf with Shell.
"The energy industry is in a unique position to bring significant change to world, and events like HERWorld are a great forum to bring the brightest female minds in the industry together to build momentum," said Angie Gildea, Principal, Americas Oil and Gas Leader, KPMG. "HERWorld is the event to debate and discuss the most current thinking on important topics like digital disruption, new technology, and the future of energy."
HERWorld will also feature the GRIT Awards, sponsored by Audi Central Houston, celebrating the women in the industry who lead, and the men who advocate for their progress in energy. Melody Meyer, a 37-year veteran of Chevron and board member to BP, NOV and AbbVie, will keynote the awards presentation which will be broadcast on Facebook at 5:00 PM CST.
In addition to Welter and Meyer, HERWorld will feature an array of speakers, including: Angie Gildea and Emma Wild of KPMG, Pratima Rangarajan, CEO of OGCI Climate Investments; Claire Johnson, founder of SunEdison; Marvin Odum, Chief Recovery Officer, City of Houston; Deanna Jones, chief human resources officer of Marathon Oil; and Brian McShane, senior vice president of INTECSEA Americas.
The forum will focus on the four key themes of growth, resilience, innovation and transition, as they relate to energy and the world at large. It will also dive into transparency, and what that means in the digital age. A pre-forum workshop on storytelling will open the conference.
For more information, a full list of sponsors and registration information, visit http://www.herworldenergyforum.com.
About Pink Petro and Experience Energy: Pink Petro is the leading global community and social enterprise aimed at creating the new future and ending the gender gap in energy. Using social technology, its mission is to elevate and connect individuals, companies, and industry to create an inclusive workforce and supply chain. The community has a presence in 120 countries in nearly 500 companies across energy in oil and natural gas, LNG, renewables, and nuclear. Experience Energy is the destination careers site for diverse talent in energy. For more information, visit http://www.pinkpetro.com and http://www.experience.energy