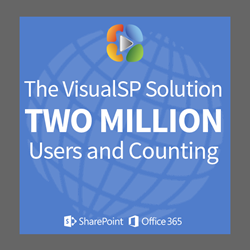 The advantage of VisualSP is that it delivers just the right amount of training to you – just when you need to learn something...
CHICAGO (PRWEB) February 21, 2018
"Considering the amount of positive feedbacks from our customers, we've expected the number of users to grow as we reach more people, but we did not think it would be this fast", says Asif Rehmani, the founder and CEO.
Since deep adoption of SharePoint and Office 365 yields better collaboration, efficient workflows, and higher productivity, it is only natural that companies deploy tools that make it easier for employees to master and actually use the platforms.
As a plug and play support and self-help application, VisualSP gives end-users help content and guidance instantly, at the moment they need it. Having access to contextual help, means users get answers immediately, without the need to search or reach out to the support team.
VisualSP is a built-in tab that provides users with always accessible tip-sheets, annotated screenshots, step-by-step walk-thrus, and screen-capture videos. Taking only minutes to implement, this method of support removes learning roadblocks, reducing the burden on IT support teams and saving the team hours. More details about VisualSP can be found at http://www.visualsp.com.
Also, hiring training personnel is expensive and, in many cases, information retention is minimal. This explains why, in many organizations, business workflow adoption fails. A big portion of these workflows are built to simply guide users to complete daily repetitive processes. Thanks to VisualSP, many of these initiatives do not end up as shelfware; they actually get adopted.
"The advantage of VisualSP is that it delivers just the right amount of training to you – just when you need to learn something – which means you're much more likely to retain it. Even if you don't, the information is there for you in-context the next time you do that task", says Susan Hanley, founder of Susan Hanley LLC.
"As the effectiveness of VisualSP feeds conversations on user adoption, executives will increasingly consider leveraging the power of in-context and on-demand help systems", observes Rehmani. "This does not mean that the old ways will fade away; it simply means that the future of sustainable applications adoption, workflows mastery, employee on-boarding, and change management will heavily rely on instant and contextual self-help".
To explore the key VisualSP capabilities and have your questions answered, contact the sales team at 630-786-7026 or sales(at)visualsp(dot)com.
VisualSP® has been a leader in e-learning/performance support integration with SharePoint since 2004. The company introduced its on-demand, inline Help System for SharePoint to assist end users in developing mastery over common SharePoint tasks. In 2016, VisualSP expanded its technology solutions to online Microsoft products. The company is led by Author and Microsoft MVP Asif Rehmani. To learn more, visit http://www.visualsp.com.