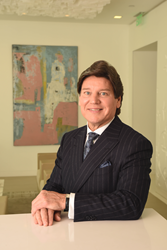 HOUSTON (PRWEB) February 23, 2018
The staff at Vitenas Cosmetic Surgery is honored to announce that practice founder, Paul Vitenas, MD, has been named as one of Allergan's Top 100 providers for 2018. Allergan, the company behind best-selling products like Botox Cosmetic, Latisse, and the Juvederm family of fillers, annually honors its most prolific providers. This marks the third year in a row that Dr. Vitenas has received this coveted title from Allergan.
As one of the country's most trusted providers of injectable and noninvasive cosmetic treatments, Allergan makes unique products designed to combat wrinkles, plump the lips and erase the double chin. Their offerings also extend across a number of medical specialties, including dermatology, medical esthetietcs, eye care and plastic surgery. Today, Allergan has operations in over 100 countries.
Once a year, Allergan releases a list of its top providers from across the United States. With over 23,000 provider accounts, it is an accomplishment to make Allergan's Top 100 list. Each provider reflects a high volume of satisfied clients. Not only do the offices see a large number of patients, but each provider uses highly trained injectors and operates under the safest of environments.
Dr. Vitenas has been part of Allergan's 'Top 100' for three years running, providing a full range of noninvasive services to clients both at Vitenas Cosmetic Surgery, as well as his medispa, Mirror Mirror Beauty Boutique. "What I have found over the last 10 years, is that there has become an ever-increasing demand for noninvasive technology," Dr. Vitenas explains. He then continues, "(In my practice), we look at patients not only from an individual desire for a particular procedure, but we look at patients and take a holistic approach." From skincare to surgical procedures, Dr. Vitenas and his staff treat each patient's needs on a comprehensive scale, which may include noninvasive techniques to reach and maintain optimal results.
An alumnus of Tulane University Medical School in New Orleans, Dr. Vitenas is board certified by the American Board of Plastic Surgery. With 30 years of experience, Dr. Vitenas brings his patients unmatched breast augmentation and body contouring techniques, along with noninvasive cosmetic treatments and physician-quality skincare. Dr. Vitenas often presents on his techniques at aesthetic conferences across the United States and internationally.
To obtain more information on the distinction of 'Top Provider', see the Allergan website. If you would like to get additional details on Botox Cosmetic, Juvederm, Latisse, or any other Allergan product, contact Vitenas Cosmetic Surgery at 281.484.0088. Consultations with Dr. Vitenas are always complimentary.