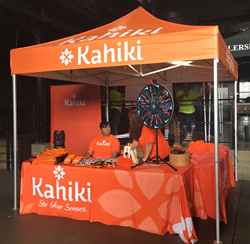 COLUMBUS, Ohio (PRWEB) February 21, 2018
Kahiki proudly sponsors Pittsburgh Winter Beerfest
Friday, Feb. 23rd, 6:30-11pm
Saturday, Feb. 24th, Noon-4:30pm & 6:30-11pm
David L. Lawrence Convention Center in downtown Pittsburgh

125+ Breweries
Hundreds of craft beer samples
Thousands of Craft Beer Fans
Live music
Fundraising for animal rescues, pet adoptions, spay/neuter programs in the Pittsburgh area and beyond
Attention! Run over to the BIG ORANGE TENT and spin our wheel to win Kahiki gear!
Kahiki Foods, Inc. Past Beerfest Successes:
Crowds clamored for exciting Yum Yum Stix & Beer combos in:
Columbus Winter Beerfest – 3,280 Yum Yum Stix munched
Cleveland Winter Beerfest – 3,320 Yum Yum Stix munched
Will the Pittsburgh Winter Beerfest be the winner?!
Pittsburgh – how many Kahiki Yum Yum Stix & Crispy Tempura Chicken will The Burgh munch? Stop by THE BIG ORANGE TENT and ask!