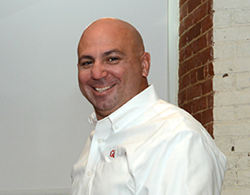 We're always looking for new and innovative ways to bring the benefits of enterprise level IT solutions to our small and mid-sized clients.
KENT, Ohio (PRWEB) February 23, 2018
QualityIP, the Managed IT Services leader in Northeast Ohio, announced the company made the 2018 Managed Service Provider (MSP) 500 list. Each year CRN®, a brand of The Channel Company, recognizes solution providers with a cutting-edge approach to Managed IT Services delivery. QualityIP offerings are designed to help companies navigate the complex IT landscape, improve operational efficiencies, and maximize their return on IT investment.
CRN divides the annual list into three categories. QualityIP is a Pioneer 250 company. This list shines a light on the most forward thinking and innovative IT companies who help Small and Mid-Sized Businesses (SMBs) leverage new technologies that fit their budget and move them toward their company goals. QualityIP was one of only six companies in Ohio named to the Pioneer 250 list this year.
"Managed service providers have become integral to the success of businesses everywhere, both large and small," said Bob Skelley, CEO of The Channel Company. "Capable MSPs enable companies to take their cloud computing to the next level, streamline spending, effectively allocate limited resources and navigate the vast field of available technologies. The companies on CRN's 2018 MSP 500 list stand out for their innovative services, excellence in adapting to customers' changing needs and demonstrated ability to help businesses get the most out of their IT investments."
Ryan Markham, QualityIP CEO noted, "We're always looking for new and innovative ways to bring the benefits of enterprise level IT solutions to our small and mid-sized clients. We're honored that CRN recognized our efforts and chose us as one of the top 500 Managed IT Services providers in North America."