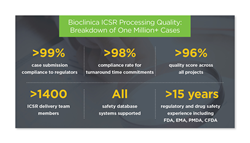 Whether Bioclinica delivers full spectrum phamacovigilance services, complete ICSR processing or selected activities, our goal is to set our clients on a successful path to meet their international drug safety reporting requirements. - Bioclinica President & CEO David Herron
PRINCETON, N.J. (PRWEB) February 21, 2018
Bioclinica®, the world-leading provider of scientific- and technology-enabled solutions for clinical research, today announces its ICSR team delivered quality and consistency in Individual Case Safety Report (ICSR) processing while crossing the one million case milestone in 2017–setting a new Company record, while enabling several 'Top 20' drug safety operations clients to meet their global regulatory requirements for safety reporting.
"Executing a strategy that combines scientific and regulatory expertise with technology innovation, our ICSR team achieved 99 percent case submission compliance to regulators while meeting clients' corporate expectations and international drug safety regulations," says Bioclinica President and CEO David Herron. "Where other providers have a singular focus on case processing volume, we focus on quality and compliance and have put the best practices, resources and infrastructure in place for scalability."
The delivery team has a greater than 98 percent compliance rate for turnaround time commitments for all cases and greater than 96 percent quality rate across all projects, and has repeatedly surpassed these rates. Herron adds, "Bioclinica's execution with quality, reliability and consistency provides for superior pharmacovigilance outsourcing value."
ICSR processing is a core service within Bioclinica's end-to-end pharmacovigilance capabilities, designed to minimize safety and regulatory risk associated with regulated products. With more than 1,400 members, Bioclinica's ICSR delivery team is supported by in-house drug safety specialists and health care professionals knowledgeable in regulatory and drug safety requirements in the US, Japan, and Europe covering a wide range of therapeutic indications.
Bioclinica's ICSR processing service is built around the following tenets:

Experienced teams: Dedicated delivery teams backed by in-house pharmacovigilance, regulatory experts, on-staff Medical Doctors and healthcare professionals available for medical review and assessment.
Multi-platform: Supporting ARISg, Argus and other safety databases and systems.
Cost-efficiency: Multiple global pharmacovigilance centers located in economical destinations.
Fast turn-around: Timelines consistent with client-specific and regulatory requirements.
Flexibility: Business Process Outsourcing (BPO) delivery model allows for client-defined services whether outsourcing the case processing function or one or more activities.
Ease of doing business: A combination of on-site, client-facing resources and skilled offshore resources for the optimal balance of cost effectiveness and customer service.
As to Bioclinica's success, Herron attributes client loyalty and long-term and enduring relationships built on trust. Additionally, Bioclinica has made investments in people and technology to handle varying workflow and to accommodate unpredictable case volumes. Dedicated ICSR and safety professionals working in multiple locations have consistently and reliably delivered compliant, on-time, high quality services.
Herron explains, "Outsourcing one or more steps in ICSR case processing to our experienced team not only unburdens companies from doing it themselves but also brings added value and monetary savings across their product lifecycle. Whether Bioclinica delivers full spectrum phamacovigilance services, complete ICSR processing or selected activities, our goal is to set our clients on a successful path to meet their international drug safety reporting requirements."
With expectations of increased case volume in 2018 due to in part to the success in achieving the one million ICSR milestone with quality as well as recent changes in EudraVigilance requirements, Bioclinica has planned for significant extra capacity to meet growing demand for its ICSR services.
About Bioclinica
Bioclinica is a global life sciences solution provider that utilizes science and technology to bring clarity to clinical trials – helping companies to develop new life-improving therapies more efficiently and safely. Successful clinical trials require the ability to see key details and uncover hidden insights, and Bioclinica's hundreds of experienced scientific, medical, and domain experts bring unmatched insight across the development lifecycle, from the initial protocol to post-approval. The company's cloud-based offerings include medical imaging; cardiac safety; clinical adjudication; randomization and trial supply management and optimization; electronic and eSource data capture; site payments and forecasting; pharmacovigilance; trial management; and risk-based monitoring solutions. A true multifaceted partner to trial sponsors and Contract Research Organizations (CROs), Bioclinica offers an integrated App xChange partner ecosystem, a global network of research sites, patient recruitment services, and post-approval research expertise to provide committed, detail-focused service through all stages of drug development. The company's thousands of employees serve more than 400 pharmaceutical, biotechnology and device organizations – including all the top 20 biopharmaceutical companies and leading CROs – through a network of offices in the U.S., Europe, and Asia.
Learn more about Bioclinica and its pharmacovigilance and other offerings at http://www.Bioclinica.com and in the Bioclinica Blog. Follow the latest company news and happenings on LinkedIn and Twitter.