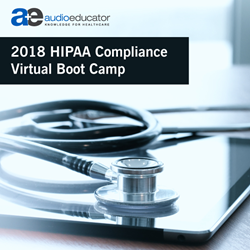 Many healthcare facilities have not done the work necessary to conduct an accurate and thorough assessment of their PHI security risks.
Durham, NC (PRWEB) February 22, 2018
You already know that HIPAA applies to all healthcare professionals, but do you know how to practice proper compliance in an increasingly digital age? AudioEducator, a division of audio conference and corporate education leader ProEdTech, will host the virtual boot camp "2018 HIPAA Compliance" with HIPAA compliance consultant Jim Sheldon-Dean on Tuesday, March 13, 2018, at 11:30 am ET. This session will discuss new ways to communicate with your patients in 2018 (and how to "de-identify" the information shared)—as well as examine the requirements of a HIPAA security risk analysis.
More and more patients want their healthcare providers to communicate via text and email. But along with the convenience of these communication methods comes HIPAA-compliance challenges. Whenever you share personal health information (PHI), you must protect the identity of the individual(s) whose information is involved. But de-identification of PHI is not an easy process (especially since HIPAA doesn't allow simple fixes such as the use of patient initials). Sheldon-Dean will review guidance from the U.S. Department of Health and Human Services and the National Institute of Standards and Technology on how to properly de-identify health information. Plus, he'll walk you through the risks of using text/email communication—and point out the compliance pitfalls to avoid.
In this comprehensive presentation, you'll learn to conduct an accurate and thorough assessment of all the PHI-security risks your organization faces—and develop security policies to reduce your exposure. Even if you think you have the best practices in place, now is the time to evaluate your supporting policies and procedures to be sure you've outlined consistent service and compliance for today's risk landscape. Sheldon-Dean will teach you to conduct the HIPPA-required information security risk analysis—and offer several useful tools for that task.
The session will benefit all personnel involved in, interested in, or responsible for: patient communications, information management, and PHI privacy/security.
Highlights from the presentation include:

How to enable better (and compliant!) patient care and communication using text and email
What HIPAA says about using PHI for marketing purposes
What the de-identification standard is and how to de-identify PHI
How to satisfy the expert determination method
What the HIPAA Security Rule requires
What a HIPAA security risk analysis is, how to conduct one, and why
What a good risk analysis is (and what is not)
Which risk analysis tools and methods you should be using
And more!
For more information and to register, visit: https://www.audioeducator.com/virtualbootcamp/hipaa-compliance-training.
Get $40 off on our conferences and webinars. Use Code PRWEB40 on checkout (applicable for all purchases).
About ProEdTech
ProEdTech is a leading source of knowledge and training for professionals in over 15 industries, serving individuals, businesses and their employees around the globe. It offers webinars, online conferences, seminars, boot camps, books, DVDs, white papers, industry reports and other learning tools from industry experts and insiders who provide a fresh perspective on key issues, trends and regulations in order to simplify governance, risk and compliance (GRC) for enterprises and industry professionals.
ProEdTech's AudioEducator webinars offer updates, regulatory knowledge and information on the latest news in various medical specialties, as well as coding and billing updates, and analysis of regulations that affect ambulatory surgical centers, home health, long term care and hospice facilities, hospitals and healthcare systems, health insurers and physician practices. Webinars are also offered through AudioSolutionz in the technology, human resources, construction and housing, ICT and telecom, manufacturing, consumer packaged goods and retail, safety and security, transportation, energy and environment, education, trade, and chemicals industries. ProEdTech's Eli Financial platform offers tax and banking professionals, focusing on providing high-quality online training products customized for U.S. lenders and tax practitioners that include the latest updates from the IRS, CFPB and other regulatory authorities. Lawyers across the United States depend on Eli CLE for top quality online continuing legal education (CLE) programs, which can be completed for MCLE credits.
ProEdTech regularly provides professionals the opportunity to get answers to their most complex questions directly from experts, without having to attend costly live conferences. To learn more, visit: http://www.proedtech.com/.