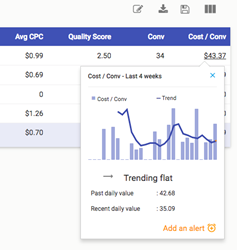 "With this rollout of our Bing Ads capabilities, PPC pros can now up their game across both ad platforms to help improve efficiency and profitability of their overall PPC initiatives." -Frederick Vallaeys
PALO ALTO, Calif. (PRWEB) February 21, 2018
Managing Pay-Per-Click campaigns in Google Adwords has been greatly automated and streamlined in recent years through Optmyzr's innovative PPC Management Software. Today, Optmyzr announced it now offers similar advanced automation to support Bing Ads management for agency and in-house marketers alike.
Optmyzr's award-winning Expert PPC Toolkit gives marketers access to powerful automation tools for campaign optimization, data insight, reporting and other advanced features. New functionality brings greater power and flexibility associated with Bing Ads to help improve workflow, tap the power of machine learning and artificial intelligence, and help make Bing Ads accounts more effective and profitable.
Specific features now available for Bing Ads management include an intuitive user interface that brings together key PPC management tools in one package:

Budget and KPI monitoring: Marketers have access to powerful visualizations and alerts to track and manage against key metrics such as conversions, return on ad spend (ROAS) and cost per conversion.
Ability to find new keywords and create single keyword ad groups (SKAGS): Optmyzr's intuitive Keyword Lasso tool allows One-Click OptimizationTM, which automates analysis of search terms and identifies higher performing search queries. Previously only available to support AdWords accounts, the Keyword Lasso now allows the same ability to identify optimal keywords and create new ad groups that support SKAG ad group structures.
New ad creation in A/B testing: Optmyzr now extends ad creation and A/B testing for Bing Ads management. Marketers benefit from automated suggestions for ad content based on what has worked in previous campaigns.
Hour-of-week performance optimization: A new Hour of Week Bidder for Bing gives PPC pros recommended hourly bid adjustments, based conversion and cost goals as well as other variables. Ad schedules can be changed in bulk, giving marketers greater ability to turn off ads when they are not needed.
Search term N-grams for Bing: New optimizations allow marketers to gain quick insight into long-tail search behaviors, helping to minimize wasted spend and improve results by unearthing words (N-grams) that lead to wasted spend.
Landing page analysis: PPC pros benefit from automated tools that help ID stronger calls-to-action to enhance landing page conversion.
Geo HeatMap analysis: Optmyzr now brings powerful visualizations of Bing Ads geo data via an interactive heatmap. Marketers can tap this information to analyze traffic and conversions based on location, allowing more strategic budget allocation to the city level.
"While we have dramatically enhanced marketers' abilities to optimize AdWords campaigns, PPC pros haven't been able to tap similar automation and optimization for Bing Ads," noted Frederick Vallaeys, co-founder of Optmyzr. "Google still dominates search, but Bing continues to advance, gaining market share for six consecutive years. With this rollout of our Bing Ads capabilities, PPC pros can now up their game across both ad platforms to help improve efficiency and profitability of their overall PPC initiatives."
Optmyzr plans to introduce additional Bing-specific functionality for additional instant optimizations and quick insights into account management.
About Optmyzr
Optmyzr's PPC management platform provides intelligent optimization suggestions that help advertisers across the world manage their online advertising more effectively. It includes a full-featured PPC reporting tool that connects with AdWords, Bing, Facebook Ads, Google Analytics, Google Merchant Center and many other data sources through Google Sheets. The company was founded in 2013 by former Google and Microsoft executives, including Google's AdWords Evangelist, Frederick Vallaeys. The Optmyzr PPC suite includes over 30 tools to improve Quality Score, manage bids, find new keywords, A/B test ads, build new campaigns, manage placements, and automate budgets. Optmyzr's excellence in PPC management software was recognized at the 2015 US Search Awards and the 2017 MENA Search Awards. More information is available at http://www.optmyzr.com.