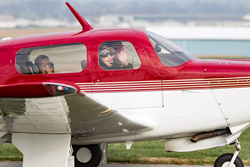 Through the support programs, I've been able to reflect on the situation, process my emotions and learn how to care for myself.
ELIZABETHTOWN, Pa. (PRWEB) February 23, 2018
Hospice services are not intended to cure illness, but can offer healing. For many, the decision to enter hospice is not easy, but with the help of supportive professionals, it can be an opportunity to embrace saying goodbye and allowing proper time to grieve.
"While in our care, many patients reflect upon their lives, telling us moments they are most proud of and things they wish they could do once more," Maureen Dolk-Metcalfe, director of hospice services at Masonic Village, said. "Staff and I often make it our mission to grant those last requests, which can range from having a couple's date night with take-out food to enjoying an airplane ride."
Requests have also included one last horseback ride for a horse trainer, a motorcycle cavalcade, an intimate dinner for a couple, videotaping an individual's life story and planting a patient's favorite flowers.
Integrative therapies help address the needs of the whole person: medically, psychosocially and spiritually. Along with aromatherapy, meditation, music therapy, pet visitation, spiritual care and support groups, Masonic Village Hospice offers several types of massage and energy work therapies to patients, specifically Healing Touch™, reflexology, Reiki™, and therapeutic massage.
After a patient passes away, staff remain in contact for families for at least one year. Heidi Young, hospice bereavement coordinator at Masonic Village, holds several bereavement support groups across Lancaster County for those looking to educate themselves on grief and gain the support of others. Last year, this included more than 700 hospice families and community members were served by the program.
"I present as a friend," Young said. "I listen and validate feelings. It's an honor to work with these families."
Masonic Village Hospice support groups are also about finding new purpose after loss. Many of the group members build friendships, enjoy a meal out together and hold drives for charities.
"Hospice allows me to grieve with people who are supportive. When you lose a spouse, it is very difficult because you're missing your other half," said David Karl, whose wife, Betsy, received care from Masonic Village Hospice before her passing in October 2016. "Through the support programs, I've been able to reflect on the situation, process my emotions and learn how to care for myself."
Based in Elizabethtown, Pennsylvania, Masonic Village Hospice is pleased to offer services to patients in the comfort of their homes throughout Lancaster, Dauphin, Lebanon and Eastern York counties.