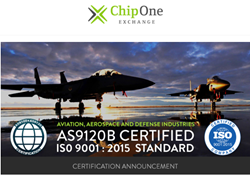 The AS9120B confirms we not only value superior quality, service, innovation, flexibility and reliability by words!With our goals focused on the emphasis of quality assurance and innovative production, we look forward to bringing the business to new heights.
LAKE FOREST, Calif. (PRWEB) February 22, 2018
As part of its evolution toward becoming a top tier global distributor, Chip 1 Exchange is pleased to announce its certification under both the AS 9120B and ISO9001:2015 standards. These rigorous standards give customers the assurance that the registrant has demonstrated the ability to consistently deliver products and services which meet both customer expectations and regulatory requirements. Additionally, AS 9120B certification insures supply chain integrity for those companies providing products to the aviation, aerospace and defense industries.
Chief Operating Officer, Damon Pouya, said of the certification, "Quality has always been a key differentiator for Chip One. After achieving ISO9001 in 2015, AS 9120B was the next logical step in delivering the highest level of quality to our customers across all of the markets we serve. "
Established in 2001 in Frankfurt, Germany and launching its U.S. operations in 2007, Chip 1 Exchange is a franchised distributor of electronic components for medical, automotive, industrial, defense, mobile computing, consumer and aerospace applications. In addition to component sales, Chip One offers design services, BOM analysis, inventory and life-cycle management.
If you would like additional information about this topic, please contact Pari Mah at 949-589-5400 x50102 or parim(at)us.chip-1.com