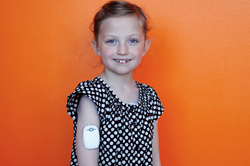 Brain Sentinel's goal is to enable the shortest possible time between when a seizure happens and help arriving.
SAN FRANCISCO (PRWEB) February 23, 2018
Brain Sentinel Consumer Systems, LLC (herein "Brain Sentinel") announces the global launch of its new SeizureLink™ Alerting System at the Epilepsy Foundation's "2018 Epilepsy Pipeline Conference", currently being held in San Francisco, CA. Pre-ordering for the U.S. will begin in March 2018, with shipments planned to begin by mid-summer via SeizureLink.com.
"The launch of the SeizureLink Alerting System gives people with generalized tonic-clonic seizures and their caregivers another tool to fight and protect themselves against the most dangerous epileptic seizures," said Mike Girouard, President of Brain Sentinel Consumer Systems, LLC. Girouard continued, "Brain Sentinel's goal is to enable the shortest possible time between when a seizure happens and help arriving. With the SeizureLink product, we believe we have the best non-prescription product available in the consumer market. Surface electromyography (sEMG) is different from other body signals being used by wearable alerting systems because it comes directly from the part of the brain where the generalized seizure occurs – the primary motor cerebral cortex."
"Generalized tonic-clonic seizures are among the most dangerous type of epileptic seizure," said Dr. Jacqueline French, Professor of Neurology at NYU School of Medicine and Chief Science Officer of the Epilepsy Foundation. "There is a great need for better ways to get help to people suffering these seizures in the home setting as quickly as possible."
In January 2018, a prospective study on the SeizureLink detection algorithm was published in the journal, Neurology, by Dr. Sándor Beniczky, Dr. Isa Conradsen and colleagues. They found that the detection rate was 94% for generalized tonic-clonic seizures (GTCS). The study also found that the false alarm rate was 0.67 per day. And, the median time to detect was 9 seconds. "sEMG is valuable for detecting GTCS because it allows us to monitor for the start of the tonic phase of the seizure," said Dr. Sándor Benickzy, Head of the Clinical Neurophysiology department at the Danish Epilepsy Center and Professor of Clinical Neurophysiology at Aarhus University in Denmark. Benickzy continued, "This is an important part of the sEMG biomarker because it corresponds to the muscle activation of the patient's muscles tensing up, before jerking motion begins. Studies on accelerometry and electrodermal signals have consistently shown a detection latency of 30 seconds or more. When a GTCS strikes, this extra time matters."
Girouard continued, "Not only is sEMG an effective body signal clinically, it allows us to create new product designs that are mobile, discrete, and accurate. Our patented algorithm monitors people's sEMG at a rate of 1024 Hz. Within seconds of the sEMG signal changing from normal to the start of the tonic phase of a GTCS, SeizureLink alerts."
Girouard summed up Brain Sentinel's progress to date, "The Brain Sentinel journey began simply by trying to help a mother who couldn't sleep at night because she was worried about her son's nocturnal seizures. Now, we have a chance to help a whole category of patients suffering from uncontrolled generalized convulsive seizures. We've moved sEMG from artifact to biomarker."
About Epilepsy
Epilepsy affects over 3.4M people in the U.S. and 65M people worldwide. One in twenty six Americans will develop epilepsy in their lifetime according to the CDC. It is the fourth-most prevalent neurological disease affecting more people than Multiple Sclerosis, Cerebral Palsy, and Parkinson's combined. Unfortunately, 55,000 people die from complications from epilepsy each year (Fisher, 2010; Britton, 2002; Sander, Bell, 2004). Approximately one-third of people with epilepsy do not have control over their seizures and another third can only partially control their seizures (Baker, 1997). Studies have shown that about 50% of seizures happen at night (Herman, 2001) and 86% of nocturnal seizures are not documented (Hoppe, 2001).
About Brain Sentinel
Brain Sentinel Consumer Systems, LLC is a privately held, medical-device, start-up company based in San Antonio, Texas pioneering the use of sEMG consumer devices for seizure alerting. On December 2, 2017, Brain Sentinel announced the purchase of the assets of IctalCare A/S, a Danish Company with its intention to make an sEMG-based alerting system available without a prescription. Brain Sentinel invested in this technology because it is committed to helping people gain better control over their seizures.