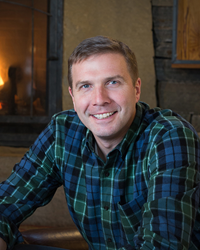 "I am definitely the product of a good liberal-arts education, and believe it has served me incredibly well throughout my career."
CARLISLE, Pa. (PRWEB) February 22, 2018
Stephen M. Smith, president and CEO of L.L.Bean and Dickinson alumnus, class of 1992, will deliver the college's Commencement address on Sunday, May 20. He also will receive a Doctor of Business Management honorary degree. Fellow honorary degree recipients are Albert Alley, co-founder of the humanitarian organization, World Blindness Outreach, Inc. (WBO); Nancy Hooff, a real-estate developer and former foreign service officer, who specializes in revitalizing communities in underserved areas; and Arthur K. Wheelock Jr., a curator at the National Gallery of Art and professor of art history at the University of Maryland.
Additionally, Dickinson will present The Sam Rose '58 and Julie Walters Prize at Dickinson College for Global Environmental Activism. This year's recipient is Our Children's Trust, the advocacy organization that has gained significant national attention for supporting 21 youth plaintiffs suing the federal government over climate action.
On Jan. 4, 2016, Smith became just the fourth president and CEO of L.L.Bean in the company's 105-year history and the first who wasn't Bean family or didn't rise through company ranks. He began his career in 1992 at J. Walter Thompson in New York City. He moved to Maine in 1997, where he joined Resort Sports Network and rose to become the vice president of sales and marketing. In 2002, he began his retail career at Hannaford Supermarket, and this launched nine years at the Delhaize Group, a Brussels-based international supermarket giant, where he gained experience in merchandising, commercial planning, marketing and customer relationship management in the U.S. and Belgium.
In 2011, Smith joined Walmart International as senior vice president and general manager of Sam's Club China and chief marketing officer for Walmart China in Shenzhen. There, he assumed general management responsibility, integrating e-commerce into the core business and improving annual sales growth. A year later, Smith became chief customer officer of ASDA, part of Walmart International, a more than $30 billion food, fashion and general merchandise omnichannel business in the U.K. In 2015, Smith became chief merchandising and marketing officer for Yihaodian, part of Walmart Global Ecommerce, a pure e-commerce business located in Shanghai.
At Dickinson, Smith studied art history and physics. "I am definitely the product of a good liberal-arts education, and believe it has served me incredibly well throughout my career. The liberal arts engages the mind in many different ways—from building critical thinking skills to engaging one's curiosity. In particular, from a leadership perspective, people who are successful in business have a natural curiosity—they question things, they want to understand how things work, why things have been decided or why things have happened the way they've happened. Dickinson prepared me for that really well," said Smith, who recently became a trustee of the college. He also serves on the board of directors for the Appalachian Mountain Club.
Dickinson is a nationally recognized liberal-arts college chartered in 1783 in Carlisle, Pa. The highly selective college is home to 2,400 students from across the nation and around the world. Defining characteristics of a Dickinson education include a focus on global education―at home and abroad―and study of the environment and sustainability, which is integrated into the curriculum and the campus and exemplifies the college's commitment to providing an education for the common good. http://www.dickinson.edu