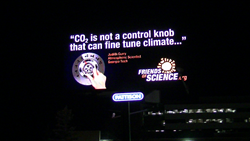 "Unfriend ENGOs-Befriend Facts" rebuts the climate catastrophe claims of the ENGO campaign against coal
CALGARY, Canada (PRWEB) February 22, 2018
Lloyd's of London announced on Jan. 21, 2018 that it would enact a coal exclusion policy from its investment strategy, as reported in The Guardian, apparently in response to a persistent "Unfriend Coal" climate change campaign by a group of large Environmental Non-Governmental Organizations (ENGOs) like Greenpeace which included the publishing of various scorecards and a direct attack on Adani group of companies and the Carmichael coal mine in Australia.
Friends of Science have issued a new report entitled "Unfriend ENGOs-Befriend Facts" which rebuts the climate catastrophe claims of the ENGO campaign against coal.
Friends of Science dismisses the hyperbolic language of the ENGO campaign, rife with emotional shaming terms like "climate laggard" which have no relation to climate science or responsible business practises. These are common tactics among ENGOs, according to Friends of Science, which produced a video some time ago that included reading an eco-shakedown letter from ENGOs to forestry companies in Canada. LINK: youtu.be/4SB-cOs18UA
Coal, oil, oil sands and natural gas companies have been demarketed and delegitimized by ENGOs for years. These groups push wind and solar as alternatives, sometimes on ideological grounds and sometimes as proxies for vested interests, as reported by the Washington Times on July 20, 2015.
According to a 2014 study by Matthew Nisbet, in 2006, "several of the country's wealthiest foundations hired a consulting firm to comprehensively survey the available scientific literature and to consult more than 150 leading climate change and energy experts. The result of this intensive undertaking was the 2007 report Design to Win: Philanthropy's Role in the Fight Against Global Warming." He says the study was optimistically done, believing 'we have the technology' for a low-carbon society, which Friends of Science Society says is not the case. In the meantime, hundreds of millions of dollars have funded ENGOs to beat the climate catastrophe drum – a stance that is not supported by current climate science knowledge.
Cambridge Professor Michael J. Kelly published a paper on May 23, 2016 in MRS Sustainability and Energy showing that wind and solar cannot support basic society – prime power like coal, oil and natural gas are essential.
Many large corporations are now pushing back against the delegitimization and damage to shareholder value by these attacks from ENGOs – the most notable being Resolute vs Greenpeace (Docket: 4:2017cv02824). Recently, both Exxon and Chevron have countersued in climate change lawsuits.
The concept of "climate risk" has been popularized by the Task Force on Climate Related Financial Disclosure, championed by Mark Carney, Governor of the Bank of England. His speech to Lloyd's of London on Sept. 29, 2015 was a pivotal event in investor/insurer perception of climate risk of stranded assets and divestment. However, Steve Kopits of Princeton Energy Analysts showed that the Carney speech was a 'failure of analysis' of the climate facts in a blog post of Oct. 10, 2015.
Friends of Science calls on governments, corporations, institutional investors and municipalities to do more due diligence on climate change science and energy policy claims by ENGOs in their new report: "Unfriend ENGOs – Befriend the Facts."
About
Friends of Science Society is an independent group of earth, atmospheric and solar scientists, engineers, and citizens, celebrating its 16th year of offering climate science insights. After a thorough review of a broad spectrum of literature on climate change, Friends of Science Society has concluded that the sun is the main driver of climate change, not carbon dioxide (CO2).
Friends of Science Society
P.O. Box 23167, Mission P.O.
Calgary, Alberta
Canada T2S 3B1
Toll-free Telephone: 1-888-789-9597
Web: friendsofscience.org
E-mail: contact(at)friendsofscience( dot)org
Web: climatechange101.ca