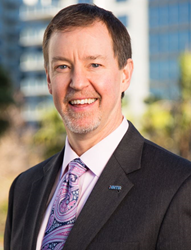 His leadership skills, combined with deep working knowledge of the communities we serve are tremendous assets to HNTB clients.
BELLEVUE, Wash. (PRWEB) February 22, 2018
James Thomson, PE, was appointed senior vice president of HNTB Corporation. Thomson joined the firm in 1987 and has served in a variety of positions, including Northwest District leader. He is based in Bellevue and works with clients throughout the West.
"Jim's broad experience in infrastructure includes leading multidisciplinary and multi-firm teams, to deliver planning, design, program and project management, and construction management on the most complex infrastructure projects in the region," said Art Hadnett, HNTB West Division president. "His leadership skills, combined with deep working knowledge of the communities we serve are tremendous assets to HNTB clients."
As the company's Northwest District leader and vice president since 2011, Thomson is credited for serving key clients throughout the Northwest, offering expertise and guidance on large-scale programs to enhance and modernize multimodal transportation networks. Using his insight and experience to discover and train success-oriented leaders, Thomson has been successful driving technical excellence for clients, leading to the successful growth of HNTB in the Northwest. Previously, as an extension of his work in the aviation field, he served as project manager for national implementation of Runway Status Lights for the Federal Aviation Administration, as well as driving major projects for Salt Lake City International Airport and Seattle-Tacoma International Airport. He also serves as a co-chair on multiple joint ventures such as the design for Sound Transit's East Link and Lynnwood Link and for the Gerald Desmond Bridge Replacement Project in Southern California.
HNTB established its Seattle office in 1961, but the firm traces its roots in the region back to 1912, when the Columbia River Interstate Bridge between Portland, Oregon, and Vancouver, Washington, opened. The bridge was designed by John Lyle Harrington, a partner in HNTB's predecessor firm, Waddell & Harrington. HNTB has grown to employ more than 180 professionals in the region who help play a role in planning and delivering high-profile transportation infrastructure projects across the state and around the country.
HNTB's many signature infrastructure projects in the region include SR 99 Alaskan Way Tunnel; Mercer Corridor improvements in Seattle; Seattle-Tacoma International Airport third runway; second Tacoma Narrows bridge; Sound Transit University Link Light Rail Extension, Lynwood Link Extension, West Seattle and Ballard Link Extensions and East Link Extension; Washington State Department of Transportation General Engineering Consultant Services for I-405 and SR 509; South Park Bascule Bridge Replacement in Seattle; Mount Baker Ridge Tunnel; historic work on I-5 dating back to the 1960s; and Tilikum Crossing bridge in Portland.
About HNTB
HNTB Corporation is an employee-owned infrastructure firm serving public and private owners and contractors. With more than a century of service in the United States, HNTB understands the life cycle of infrastructure and addresses clients' most complex technical, financial and operational challenges. Professionals nationwide deliver a full range of infrastructure-related services, including award-winning planning, design, program management and construction management. For more information, visit http://www.hntb.com.