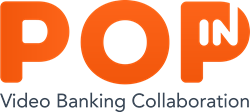 "Emotive recognition takes video banking to a whole new level," said POPin Video Banking Collaboration CEO Gene Pranger. "PositiveIQ's unique algorithm measures both the consumer and the call center, giving agents and managers immediate guidance on how to improve the customer experience."
SALT LAKE CITY (PRWEB) February 23, 2018
POPin Video Banking Collaboration, the world's first interactive mobile video banking solution, today announced the platform's incorporation of DERIVE PositivityCoach, a robust application for emotive recognition released in partnership with PositiveIQ, a not-for-profit organization promoting positivity and personal growth.
"Emotive recognition takes video banking to a whole new level," said POPin Video Banking Collaboration founder and CEO Gene Pranger, who created the concept of video banking in 2008 and now POPin as the completion of that vision. "PositiveIQ's unique algorithm measures both the consumer and the call center, giving agents and managers immediate guidance on how to improve the customer experience."
Through POPin's patented platform, members can complete nearly all banking needs via the web, personal devices or branch-based video. With the addition of DERIVE PositivityCoach, POPin can now evaluate the emotional health of interactions between service representatives and customers, display real-time information to agents regarding the emotional state of customers, and generate timely suggestions for enhanced service and selling opportunities. Managers can also receive feedback on agent performance and use these insights for sales strategy and training.
"Emotive recognition is a game changer for engaging with customers," said Amy Weiland, Director of Training & Education Development at PositiveIQ. "The principle of the technology, and what we strive toward at PositiveIQ, is to develop more positive relationships. Some customers are uncomfortable talking about personal finances. DERIVE PositivityCoach provides a way to uniquely and effectively connect with customers during those vulnerable conversations."
POPin Video Banking Collaboration will introduce DERIVE PositivityCoach at CUNA Governmental Affairs Conference, held February 25 - March 1, 2018 in Washington, D.C.
To learn more about how POPin Video Banking Collaboration is improving financial services, visit http://www.popinvideobanking.com/.
About POPin Video Banking Collaboration
POPin Video Banking Collaboration is a web and mobile video software solution bridging the gap between businesses and their customers. Through increased connectivity, this comprehensive and interactive solution enhances customer communication and action to empower sales and give companies the tools they need to exceed customer expectations. For more information regarding POPin, visit http://www.popinvideobanking.com or call 801-417-9000.
###
Press Contacts
POPin Video Banking Collaboration PR
Kristi McCain, (385) 204-4341
mccainconsultingllc(at)gmail(dot)com