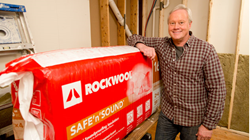 It's easy for people to overlook improvements that can help optimize their remodeling investment. At the top of my list is adding more insulation to the home.
MOBILE, AL (PRWEB) February 23, 2018
With projections of increased spending for home improvements in 2018, Home Expert Danny Lipford, host of Today's Homeowner TV and Radio, offers advice to help consumers plan smart and optimize their remodeling investment. The most recent Leading Indicator of Remodeling Activity (LIRA) released from the Joint Center for Housing Studies of Harvard University anticipates spending on improvements and repairs will approach $340 billion in 2018, an increase of 7.5% from 2017. Additional data from Metrostudy's Residential Remodeling Index forecasts a 5.2% rise in home improvement activity for the current year, predicting there will be more than 12.5 million $1,000-or-more projects launched in 2018.
According to Lipford, it's important for homeowners to keep the big picture in mind when taking on remodeling projects. "If a homeowner is finishing a basement, or making an addition for example," says Lipford, "their focus is typically on the finished product – attractive, usable living space. It's easy for people to overlook some of the other improvements that can help optimize their remodeling investment. At the top of my list is adding more insulation to the home."
To share advice on the benefits of insulation to the home, Lipford launched a series of TV segments airing February 19-26 across the U.S. In the 2-minute segments, he explains how easy is it to add insulation during remodeling projects, and walks through the many benefits it brings to homes and homeowners alike.
Lipford explains adding insulation to the home is the number one improvement offering the best financial return on investment. Homeowners will see immediate benefits with reduced energy bills and increased comfort inside the home. In the segments, he introduces viewers to stone wool insulation as his go-to choice for its unique properties of fire resistance and water repellency. ROCKWOOL, formerly known in the U.S. as ROXUL, is the world's largest producer of stone wool insulation. This type of insulation is made from actual stone, so it is naturally fire resistant and offers an added layer of protection in the event of a home fire. In addition, stone wool insulation is water repellent. It prevents mold and mildew growth thereby contributing to a healthier home. Finally, Lipford discussed the soundproofing benefits that come with increasing a home's insulation.
The lifestyle segments will reach over 8 million viewers and are sponsored by Today's Homeowner Media and ROCKWOOL.
About ROCKWOOL
With five factories and plants and 1,000 employees, ROCKWOOL Group is North America's largest stone wool producer, offering advanced building insulation, industrial and technical solutions.
At the ROCKWOOL Group, we are committed to enriching the lives of everyone who experiences our solutions. Our expertise is perfectly suited to tackling many of today's biggest sustainability and development challenges, from energy consumption and noise pollution to fire resilience, water scarcity and flooding. Our range of products reflects the diversity of the world's needs, supporting our stakeholders in reducing their own carbon footprint along with way.
Stone wool is a versatile material and forms the basis for all of our businesses. With approximately, 10,600 passionate colleagues in more than 35 countries, we are the world leader in stone wool solutions, from building insulation to acoustic ceilings, external cladding systems to horticultural solutions, engineered fibers for industrial use to insulation for the process industry, marine and offshore. For more information, visit: http://www.rockwoolgroup.com.
About Today's Homeowner Media
Today's Homeowner is a trusted home improvement authority delivering fresh, original, practical advice to consumers across diverse media platforms including the top-rated, nationally syndicated Today's Homeowner television show, now in its 20th season and its radio counterpart, the nationally syndicated Today's Homeowner radio show. Additionally, the media brand hosts the top home enthusiast destination website, TodaysHomeowner.com, drawing nearly 2 million monthly visitors, robust social media channels and the award-winning lifestyle blog and web series, Checking In With Chelsea. 3 Echoes Productions, the professional production arm of the brand, serves an impressive national clientele with expert video services.
Host and founder of the brand, Danny Lipford, is among the most sought-after home improvement experts in the country. The seasoned remodeling contractor and media personality served as the home improvement expert for CBS's The Early Show and The Weather Channel for over a decade and has made more than 190 national television appearances on FOX&Friends, Inside Edition, Morning Express with Robin Meade, FOX Business Channel, Rachael Ray and more. He travels the country making appearances as a brand ambassador and spokesperson, and contributes expertise to hundreds of popular magazines and online media outlets each year.